Write A Diagnostic Essay
Diagnostic essays form a crucial part of College and University courses. In this article, our professionals are providing explanations about how to write diagnostic essays to those who have no idea about it. With the help of these tips and suggestions, one can complete a diagnostic essay easily on time. Most often graduates are assigned a diagnostic essay topic by professors but sometimes they are asked to find it on their own.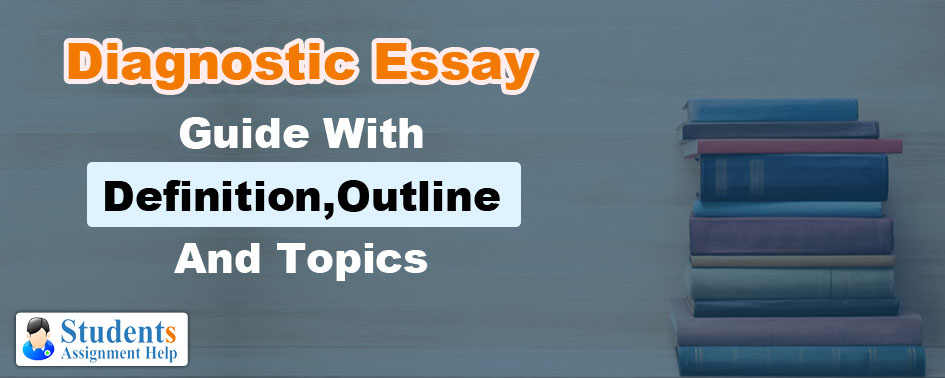 Definition Of Diagnostic Essay
Diagnostic essays are basically an assignment that tutor gives to students at the beginning of a new semester in College and University. Graduates are given a topic or line of argument by professors for writing such essays. Every college student needs to submit a diagnostic essay within a given deadline period. Then these essays are critically analyzed by the professors to address knowledge students. Based on the analyses made by professors from these essays a syllabus is prepared for the next semester by keeping every student in mind.
Then the main purpose of a diagnostic essay is to help tutors in judging the skills and knowledge of students. It is the diagnostic assignment that provides tutors ease in analyzing the strengths and weaknesses of students. Diagnostic essays provide instructors ease in diagnosing the thing they need to perform for accomplishing objectives.
Format And Structure Of Diagnostic Essay
Do not forget that your time isn't endless, so it is crucial to mind correct structure first! Such an approach will help you to eliminate additional editing or rewriting challenges. Unless instructed otherwise, general diagnostic writing should include Introduction, 3 Body Paragraphs, and Conclusion part.
Introduction
Repeat the prompt in your own words to introduce the assigned topic or question. Then briefly tell of three main points (arguments) that will be introduced in body paragraphs. The last sentence in an introduction is a thesis statement, which should be one sentence long, presenting a strong argument or a call to action.
Body Paragraphs
Remember an old rule that says "1 idea – one body paragraph!". It is obligatory here! Make an argument and explain how it relates to your thesis. If any statistics, data, or personal experience can be used to support diverse claims being made, feel free to include them here.
Conclusion part
Summarizing each main point of paragraphs in such a way that makes even the most complex information clearer. Do not introduce any new ideas in the conclusion paragraph. Rephrase the thesis statement in different words so that it brings no doubts among the target audience. For your final sentence, speak of facts or an issue in question in such a way that it encourages you to act positively or research has given the essay topic more.
Steps To Write A Diagnostic Essay
When you are assigned the diagnostic essay you have limited time in such cases you should start thinking about the concept very soon.  You should first begin drafting the thesis statement and then you can decide the structure based on the main point.  at the time of writing the diagnostic essay, you should manage your time.  It is also very much essential for you to keep some time for proofreading and editing essay.
The seven steps of writing a Diagnostic essay are:
Step 1: Selection of topic 
Sometimes students are assigned a topic for writing a diagnostic essay. Your tutor might ask questions that you may need to answer in form of an essay. If you are not assigned the topic then you can see below the list of topics on which you can write a diagnostic essay.
Step 2: Draft thesis statement
In the context of a diagnostic essay, the thesis is the main point which you need to write first.
For example: If you are assign with topic  Effect of globalization on business growth then your thesis statement can be : Globalization helps companies in  expanding business operations. It helps forms in increasing sales and profitability.
The writer should first design the rough draft of the thesis statement in case you are not confirmed about it then you can first write the main body paragraph.
Step 3:  Prepare Framework
The diagnostic essay outline is the step that needs to be taken by the graduates while gearing up for their diagnostic essay assignments. Preparing an outline for the essay before writing the essay helps them to frame their arguments and points accordingly in the best way. At this step, you need to prepare the structure for your diagnostic essay. As you have a limited time period preparing a diagnostic essay outline will help you in writing all important parts of an essay quickly.  It is an essay structure that will help in ensuring the inclusion of all main points.  Now after completion of this step, you can start writing your essay
Step 4: Start writing an introduction
After preparing an outline of the diagnostic essay, you can start writing the introduction. An introduction part of the essay is of utmost significance as it builds up the base of the essay for readers. Before beginning to write an introduction, you should have a clear idea about the objective of writing a diagnostic essay. You should start the introduction by writing a catchy sentence or hook as it will help you in capturing the attention of the reader.  The points you must include in the diagnostic essay introduction.
Explain your topic in the introductory part that what understanding you have regarding the topic.
Project your agenda of the essay that you want to prove throughout the main essay by doing research.
Give an account of the arguments that will be developed in the essay body.
Wrap up the introduction of your essay by giving a superficial glimpse of the entire essay at a glance to the readers so that their interest could be caught.
For example:  if you are assign with topic  to write essay on the hardest thing you have ever done like migration to other nation. Then you should start your diagnostic essay by providing the description  about how and why you have move to specific country. At the time of writing introduction for diagnostic essay, You should also state that why it was quite difficult task for you to move from one country to other.
Step 5: Write the main body of an essay
There are mainly three parts in the diagnostic essay, Every part of the essay should deal with a separate argument and its development.  At the time of writing the main body part for the Diagnostic essay, you can make use of Transition sentences for linking different paragraphs.
For example, if you are writing a diagnostic essay on the boon and vane of social media for students then you can include the following three arguments in your main body.
Diagnostic essay paragraph example #1

Social media is playing a very crucial role in the life of graduates. As they can prepare several projects for their course with the help of social media. For example, if a project requires research on the exchange in culture and language through social media then data can be college from social sites easily.

Diagnostic essay paragraph example # 2

There are thousands of benefits that can be taken from several social media websites but still, it has many negative points as well. People spend almost their entire day on social media without bothering about their studies. As a result of which it hampers their progress in academics.

Diagnostic essay paragraph example # 3

Social media websites are the biggest cause of spreading terrorism across the globe. Terrorist can easily communicate with each other without revealing their actual identity on these sites. So this is considered as the safest way for the terrorist to strive for their goals to spread the terrorism in every nook and corner of the country.
Step 6: Conclude the essay
The diagnostic essay conclusion has the same importance as the rest of the essay and one has to be very much careful while wrapping the essay with a conclusion. All three parts of the essay along with the thesis statement need to discuss in the conclusion of the diagnostic essay. The essay should be concluded in such a way that a person reading it can easily address the main aim. Make sure that you do not end up writing a very long essay conclusion and keep it brief always to enhance the readability for the readers.
Step 7: Proofread and edit 
proofreading and editing are very much crucial to address and correct mistakes. You should check punctuation, grammar, and other errors in the essay before submission.
It is very natural for a human being to commit mistakes and similar can happen to you while writing a diagnostic essay. So make sure that you edit your essay by going through every single line. Rectify mistakes that are made in grammar like spelling errors, grammar rules, etc. Also, do not forget to rectify the punctuation of your essay before it is submitted finally to the professors in college.
Get Best Diagnostic Essay Writing Help
So these are the professional ideas and suggestions for writing a diagnostic essay for college. In case you are still finding it difficult to complete a diagnostic essay then you can take help from Students Assignment Help. Professional essay helpers are having ten years of experience in giving online essay writing services to graduates. Round-the-clock plagiarism, free assignments are written before the deadline by the experts.
Also, the cost of this online essay writing help is very nominal for college students. At the same time, you can also avail yourself of emergency help in college essay writing from StudentsAssignmentHelp.com. You can also take help in other types of essays that are assigned to college students from the same website. For example critical essay help, process analysis essay help, and help in writing profile essays as well.