Difference Between HND and HNC
08/27/2019
|
George Orwell
|
1229
HND and HNC both are higher national diploma and certificate respectively that are helpful to gain professional education in any arena. But there are several unique elements about them which set the difference between HNC and HND. Those who are thinking of pursuing a course in HND or HNC must have a fair idea about their differences.
Here you will be able to understand the difference between HND and HNC along with their importance and meaning. The number of subjects that falls under the category of this diploma and certification also illustrated here. Also, a clear cut idea about the equivalent degree to that of HND and HNC courses can also be obtained here to take a firm decision for your career. All the major differences between the two types of courses are mentioned step by step by the experts here. By the end of reading it, you will be able to differentiate the two very clearly and that is too without putting many efforts.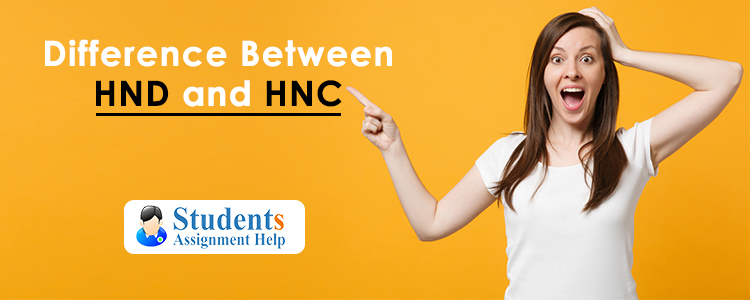 What are HND and HNC courses that are pursued by the students?
Like mentioned above HND stands for a higher national diploma which is a course pursued by the students in different countries like the United Kingdom. Those who are doing their job to support their families can pursue this course as part-time to gain a diploma of two years. The course runs for the duration of two years and gives an opportunity to students for getting a bachelor's degree by devoting one extra year in university after it.
On the other hand, HNC stands for a higher national certificate which lasts for one year when done without a gap in full-time study. It orients students to understand their interest in the given subject. If they like the subject it becomes easy to continue by doing two extra years of study to obtain a degree. On the contrary, they can leave the course after finishing it in a year. Job opportunities also rise after HNC that is of basic level. These diploma and certificate courses also prepare the students towards technical grounds to work as a professional in their field.
Importance of pursuing an HND and HNC courses for students after school
There is a number of signs that can be obtained by doing HNC and HND diploma by the students. For example, those who cannot manage to get enrolled in the regular full-time courses can pursue HND and HNC courses easily along with their job and other work. At the same time, it becomes easier for the students to get a professional degree like skills and aptitude from the HND and HNC courses which are not possible to that extent in the regular classroom degrees. The biggest benefit that can be earned by the students from these two diploma and certificate courses is that they can also obtain a bachelor's degree by adding one and two years to the diploma study respectively. Thus we can figure out that both HND and HNC courses play a significant role in the life of students who are not having good opportunities to pursue their study with their jobs.
Difference between HND and HNC course of university-level
Although both the courses play their significant role in building the career of the students still there is a number of differences between them as well. The types of HNC assignments and HND assignments and their difference, subjects and so many things that make the two courses very different from each other. Here we will try to illustrate the best differentiating points between the higher national diploma and higher national certificate. That is how one can derive the best understanding of the two types of courses clearly in one's mind.
| | |
| --- | --- |
| HND Course | HNC Course |
| 1. It stands for a higher national diploma. HND is equivalent to the first two years of the graduation degree which is of three years in duration. | HNC stands for the higher national certificate. Such courses are just like other diploma certification courses and can be considered as the first year of a bachelor's degree. |
| 2. It mostly takes two full years for successful completion. One can extend the course up to 4 years if the fewer time hours devoted to it on a daily basis. | HNC certification requires only one year. The duration can be extended if the course is done in a part-time option by the students. |
| 3. An HND diploma is counted as two years of bachelor's degrees and students can get a bachelor's degree of three years by just attending the final year of the degree course. | These HNC certificates are not equal to the two years of a bachelor's degree and students are supposed to impart full two years after HNC to receive three years degree. |
| 4. The higher national diploma can also be useful to get the best job with high salary owing to their approximate equality with a bachelor's degree. | Not very handsome jobs can be managed by completing the HNC course and only basic jobs can be obtained by students. |
| 5. Mostly done for the purpose of getting a job in the industry or a professional filed by gaining skills by part-time course. | HNC courses are probably taken by those who are not aware of their interest in a given field. In one full year, they very easily come to know about the subject rather than pursuing a three years full degree. |
| 6. The cost of HND courses is higher owing to their long duration. | HNC courses are comparatively less costly and can be done easily by any person irrespective of financial background. |
| 7. The HND is a higher level diploma which provides benefits equal to that of a bachelor's degree. | HNC is a low-level certificate and cannot be counted as equivalent to a degree. |
Types of subjects that are included in the two types of courses: The HND and HNC both the courses are offering a wide array of subjects to the students who want to pursue courses in them. For example Photography, business management, marketing, computer engineering, and biosciences, etc. But the difference lies only in the syllabus of these subjects. For HND courses the syllabus of the course is a big of higher-level owing to its long duration and covers many professional aspects of the course as well. On the other hand, when it comes to the HNC course there are basic concepts and fundamental principles that are made clear to the students in the various subjects that are taken up by the students. So we can say that there is no hard and fast difference between the subjects but yes the syllabus of both higher national diploma and the higher national certificate is different to many aspects.
Duration of course period for which both HND and HNC run:  The course duration of both the courses that are for HND and HNC is mentioned several times here. The former one is of two years duration and covers almost all the aspects of the subject in which it is pursued. Talking about the later one that is the HNC course it is of short period and ends up only in one year. The HNC courses mostly cover the basics of the subject and thus provide only basic jobs in the respective arena. In short to cap it all we can say that HND courses are equal to the first two years of a bachelor's degree that run for the duration of 3 years. At the same time, we can consider the HNC as only the first year of the bachelor's degree. But they individually also have their own significance in the life of students to get a job on a skill basis.
Difference between the significance of pursuing HND and HNC:  While HND is going to help you in getting a more stable and high paying job this is not the case with that of HNC courses. This is because of the skills that a person acquires in two years are good enough than the one who has learned them for a single year only. At the same time, it is possible to give one year for university education and get a degree from the university in case of HND. But when it comes to HNC one has to struggle for two long years to fetch that degree in his life. So we can say that HND is more fruitful to the students whether it comes to get a good job or attain a degree in later part of the time.
Variation in the cost that comes to compete for an HND and HNC course:  This is very natural that if a diploma is of two long years the cost of study and its completion is going to be higher than the one year of HNC. In the second year of the HND diploma certain professional works are made to learn to the students through technical tools and techniques. To manage the accessories to learn theses professional things it becomes crucial for the students to spend a lot of money on their education in the second year. So we can reach to a conclusion that HND is a bit higher in cost than the HNC owing to the level of professionalism and difference in the duration of two courses.
Types of assignments that are given to the students in HND and HNC courses:  Well, higher national diploma expects a bit professional level from the students and that is why practical research-based assignments are mostly asked from the students. When it comes to the higher national certificate the level of the assignments is not very tough to the students. HND students are asked to write a thesis, paper, dissertations, etc. by doing their surveys and research to find data. On the contrary, HNC students can use the data for research collected from authentic resources. Mostly essay and term papers are given to the students in higher national certificate course in the United Kingdom, Malta and other Asian countries of the world. That is why HND students are worried about their assignments all the time.
The purpose behind doing HND and HNC diploma for students:  Both the courses are mostly opted by those who have to work in a very early lifetime and left the studies in between. These two courses offer a chance to the students to pursue their education again while doing work on a part-time basis. Students who want to get a hike in their salary by increasing their skills can also take these courses easily. This is because of the reason that HND and HNC both are vocation oriented courses and mostly gives skills to the students for a professional career. Sometimes the reason behind doing these courses like HNC is done by the students to check whether they want to pursue their career in a given field or not by getting admission in short HNC courses. We cannot assume the same state for the HND courses which are longer in time duration.
How to get enrolled in HND and HNC courses?
Well if you are doing a job after completing your higher school education and want to get admission in the HND and HNC course then it is going to be very easy for you. Follow the given steps that are mentioned below to become a student of higher national diploma and higher national certificate course very easily.
Find out the interest in the subjects in which you want to pursue your HNC and HND diploma as per your need and requirement.
You must be very much clear in your mind about whether you want to take the HND course of HNC course before opting a subject for it.
Now figure out the Universities and Colleges that are offering you the same subjects for doing the course mentioned here.
The process of admission in the given selected colleges must be understood clearly to students before submitting an application for admission.
Do not forget to compare the free of different colleges and reviews are given by the students of previous batches as well.
Give your application along with personal statement if required in the college of your choice.
Always submit your admission form in more than one college to ensure your admission at least in one college.
Submit the fee of the course and attend your classes on a regular basis.
In case you are having a job with you and want to pursue the course then go far the part-time course according to the time you get from your busy schedule. This is because you can finish your course in more than two years also.
Seek help in writing HND and HNC course assignments from StudentsAssignmentHelp.com
Students pursuing HND and HNC courses from several universities in the United Kingdom and other parts of the world can take help in writing their assignments as well. Students Assignment Help experts are offering HND assignments to help the students at a very lucrative price. Those who become fail to submit their assignments on time for HND and HNC courses can seek this help to follow the deadlines for the submission of their HND and also HNC assignments. No delay is made by the experts in the submission of these assignments to students on time and even emergency help in assignments is also provided in HNC and HND assignments.  All types of subjects and their topics are covered in the help given by the experts in higher national diploma and certificate courses.