Non-Fiction Essay Topics
What is a nonfiction essay?
Definitely! Life is a story and contains many short stories. Writing essays on real-life stories of persons, objects, places, events, etc is known as nonfiction essay writing.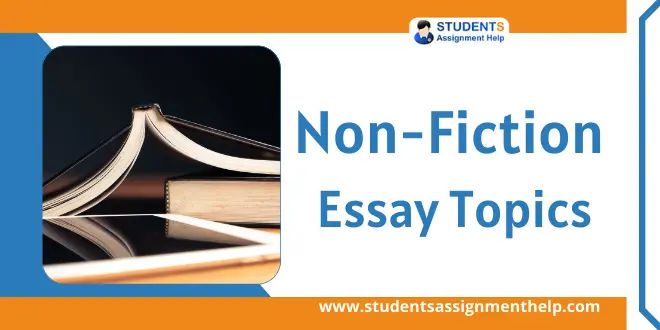 Types of non-fiction narration include:
Travel writing
Sportswriting
Reports
Profile
Nature writing
Memoirs
Essays
Biographies
Autobiographies
Articles
 Non-fiction essay topics: Updated 2020 List
Narrate a story or scene from your past from an alternative point of view.
A dividing moment of our life that splits it into two.
Pick any photo and narrate the story behind it.
Write about any person who admires you the most.
Narrate a day or moment from your high school that you never want to share with your parents.
The experience from your life that has changed your life.
Narrate a moment or time from your life in which you felt a strong spiritual or unidentifiable energy.
Write about a missed connection.
A fast and easy way to start writing is to free write or craft a response to an article, editorial, column, or blog post.
Your memories when you learned about spirituality, religion, and faith.
Narrate about your neighborhood by mentioning their names.
The experience from a life that has changed your perspective about life.
Prepare a timeline of events showcasing your life with the help of newspaper headlines.
The most inspiring teacher from your school or college life
Narrate a frustrating and amusing experience from your life.
Write a how-to article about a task, activity, or project you have learned to complete through practical experience in your career.
Narrate a wonderful holiday experience from your life.
Narrate your time of struggles or when you overcome your obstacles.
Narrate a story depicting your memorable family holiday gatherings.
"The dignity of movement of an iceberg is due to only one-eighth of it being above water." – Ernest Hemingway.
Narrate your lookout for your future. How your obituary would be?
Narrate a strange experience from your life.
Think of a period or moment from your life when you didn't get according to your expectations.
Have you ever experienced a miracle in your life? Depict it.
Tell the story of a location from your memory.
Tell about a book that you loved to read in your childhood.
The goal you want to achieve in your life.
An experience from your life that helped you to be mature.
What ordinary things do I see in extraordinary ways?
Narrate a key lesson that you learned from your parents or family.
The most difficult task you have accomplished in your life.
Heartbreak is a part of everyone's life. It also teaches you several lessons. Narrate the same from your life.
Time from your life when you learned to let go.
Experience from your life that can help to give inspiration to others.
The most memorable birthday of your life.
A piece of music or time that reminds you of something from your past.'
A critical review of your favorite book, novel o comic.
City where you lived and loved to live.
Choose an event in your life that someone else remembers differently.
A period or experience of your life that portrays your bad image.
Your childhood memory when you have learned something new about life.
Have you ever felt an inexplicable call to do something?
Narrate two days of your life that are opposite to each other.
Pick any strong emotion and depict any memory based on it.
Write about an experience where the setting was your main antagonist.
Write an article containing your favorite songs and albums and also give a short explanation of it.
Depict any of your recently learned lessons.
Narrate any childhood memory with the same innocence.
Do you believe that higher power exists or not?
The thing that is important than all the other things in your life.
Narrate a memory when you felt like a fish out of water.
Most embarrassing moment of your life.
Your first experience with cooking. What you have cooked?
The thing that stressed you most as a child.
Narrate your own love story.
Elaborate on your fashion sense.
Tell us about your most painful relationship.
A time period when your body rebelled.
Have you ever gone on a road trip? Narrate it for us.
A person who entered your life and changed your life totally
The changes in your identity during the whole lifespan of time.
Any two important incidences of your life that are linked to one another.
A moment when you lose your temper and no one can control.
Narrate your life story from the second person's point of view.
Your first friend to die.
Write a 6-word memoir.
If you are asked to throw 5 items in the fire, what they would be?
Tell me about your hometown and what makes it special.
Narrate a story from your life in inverted chronological order.
A moment from your life when you felt guilty.
Write a single, three-paragraph scene when your sexual desire was thwarted by yourself or someone else.
Hire USA Essay Experts From Students Assignment Help
If you don't feel confident enough and want a readymade assignment, to attain high grades. Then you can hire the experts at Students Assignment Help and leave all your stress on them.
Our USA essay writing expert is here to resolve all your essay writing difficulties. Our team of Professional Essay Writers finish all your task within the given time and presents the best essay examples help. We provide free essays. You can even get scholarship essay help or College essay writing from our expert online writers.