Persuasive Speech Example About Education
A persuasive speech is written to present it in front of the audience by someone to persuade the people on a given point or topic. There should be a proper order of arguments, points, and statements in the persuasive speech so that the audience can connect to the speech. There are three parts that are mainly included in a persuasive speech classed introduction, main body, and conclusion of the speech. The following free and best-ever example of persuasive speech about education is going to make you clear about its fundamentals very easily. Read the entire speech sample to know how persuasive speech can be written in a professional way.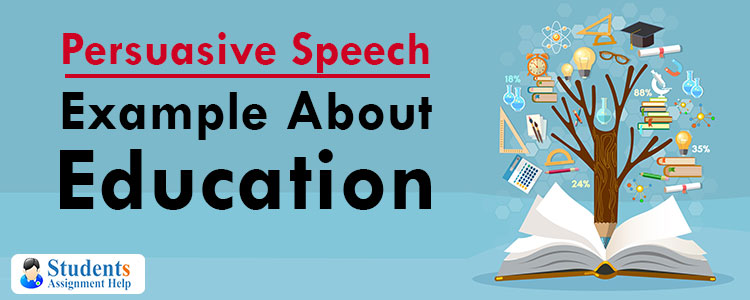 Persuasive Speech Sample on Education
Introduction – Education

Education is becoming the strongest weapon on the earth that helps us to fight various day-to-day challenges. Nowadays people are aware of their education rights and also prefer to send both girls and boys to school as well. But still, there are millions who do not find education important, and preference is given to work from the very childhood and traditions. At the same time, there are people who are differently-abled and considered not fit for education by society and social taboos. Also, the failure of inclusive education is one such example where we can say that education is not setting equality among people. Here we will talk about how education rights are snatched from the people by society and government. At the same time, we will also try to find solutions for making education a basic right of every individual.

Main Body – Education

Education serves the most crucial role in the development of the country and its economy as well. But most of the countries are not ready to send their women population to schools as they are obsessed with their traditions. Talking about women education today half of the world women are not going to school and early droppers. Also, their education is limited to their marriage motif only and not towards taking part in the growth of the national economy. That is why such countries are lingering on the world economy level.

If we move our heads around the differently-abled child they are not given the proper infrastructure by the government in inclusive education. As a result of which they are helpless to drop their education in between. The law of equality for education cannot do much if the punishment law for kids who are mocking the differently-abled children are brought into the light. Bringing regular schools with special education schools does not solve the issue but infrastructure should also be molded according to it.

If we will bring a change in our mentality and accept the reality that both men and women are equal to this society then the education rights can be availed by women also. The meaning of being educated does not mean that we hinder others to sail on that path. Equality should be the ultimate goal of educated people and the books and syllabus must be framed according to it. That is how we can chase a dream of a peaceful and equal world.

The differently-abled people must not be mocked by those who can easily carry out their work. Rather support should be given orally and not in the way of sympathy. Empathizing with the problem of the person living with you is the biggest benefit that education can give. Mugging up facts and is not the identity of an educated person and that should be understood to everyone. Also, the society is also supposed to change a shift in its perception of women as they are doing marvelous jobs in various sectors.

Conclusion

So we can say that education rights although not equally distributed among the people of different classes, backgrounds, religions, and societies. But still, equality can be established by striving towards it continuously. We can bring the major reformation in society only when the awareness about education will be done in every nook and corner. Although shouting slogans sometimes appear unworthy to aware of the people about education but still, we can see a slow change in the attitude of people towards educating their people.

There are so many achievements that have been obtained so far in educating people by the social workers and government. But we cannot hold on to those accomplishments to justify our stillness to take any action further for taking this equality to another level. We have crossed a long way to set education equality in society so far but still, there are miles to go ahead.