How to Write Response Essay – 6 Helpful Ideas For College Students
07/17/2019
|
George Orwell
|
831
In this article, we are going to know how to write a response essay. Let's start to know this, Response essays are assigned to the college students by their professors very regularly on one topic or another. Graduates are supposed complete these essays by reflecting their ideologies and perspective on a given text or essay paper. The response essay topics can be written by the students by following a set pattern and format. If you are not having a fair idea about writing such essays then go through the tips given here for writing response essay below.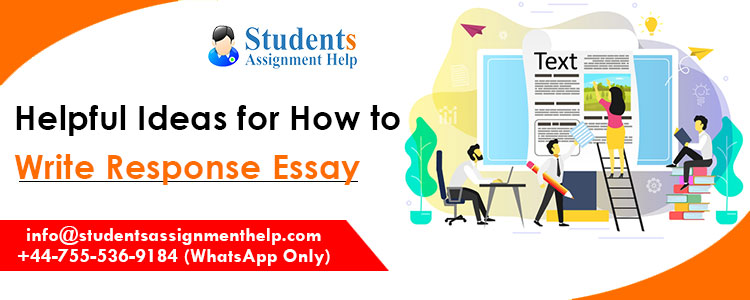 Definition of response essay
The response essay as the name indicates is written by the students for responding on a given text by using their empirical knowledge. The essays are written by showing personal viewpoints and perspectives by the graduates. But one cannot go on writing according to his mind without any substantiation. Proper evidence and proof need to be cited for supporting your ideas for the essay. That is how good response essays can be written for college by graduate students.
How to start a response essay?
Before starting to write response essay you need to first search for an article relevant to topic.  At the time of writing a response essay you are require to mention the name of publisher and also publication date. Here, you also need to provide summary of article about which you are talking. It is very much essential for you to provide informative and precise concept of the material. This activity of yours will help in developing understanding about original work.  After that you are require to summarize introduction part of response essay.
At the beginning of essay you need to clearly specify the baseline of your analysis essay.  It is a step where you should not write personal reaction. It is very much important for you to keep your introduction part more objective.  You need to write at least give to eight sentences in introduction part of responsive essay.
Techniques to write Body paragraph
In the main body paragraph of responsive essay you need to build reaction. You need to provide insight about agreement or disagreement.  At the time of writing this part you need to make sure that it is important part of analysis. It is main body section of responsive essay where you need to present arguments.  The main body section in essay provides reader with argumentative capability in writing a responsive essay.  In context of response essay, reaction works differ from book review.  The main purpose of writing this section is to link the number of problems faced by author with personal experiences and current occurrences.  At the time of writing main body paragraph you should make sure that this section of response essay contains reasons for thesis.
Few unique approaches which you can utilize for structuring the main body paragraph of an essay are:
Evaluation of article
In this section, you need to have discussion about the main points.  Here, you should highlight the strengths and weaknesses of the arguments provided by author.  You need to write this section mainly in two or more paragraphs. At the time of writing this section you are require to consider length of paper.  You should also provide supportive proofs from the text as it presents the playwright ideas.  Here, you can utilize direct Quotations but at the same time you should highlight the Quoted Text.
Reaction
It is sections in main body part of responsive essay where you are require sharing personal opinion about the text.  In this part of main body, you should highlight key ideas. You can also crises the work of other author. Writer can improve the article by sharing their own ideas. You need to write at least two or three paragraphs for arguing your reaction on subject matter which arise from manuscript.  At the time of writing the main body paragraph, it is very much essential for you to keep in mind that reader will evaluate your expertise on the basis of this section.  You can give real life examples about the case for elaborating facts.
Conclusion
In this section you can write a paragraph for wrapping the things you are writing.  This part of response essay ties both main body and conclusion section. Before writing a conclusive part you are require to review article. In this section, you also need to clearly state whether you are agree or disagree with the article.
Example of response essay
Another provides the explanation that he had made decision to get a tattoo after having broken up with his girlfriend.   After break up with girlfriend, Anther didn't do it on a drunken binge, but rather in a spirit of self-reform. He had desire to do something spiritual but he never rejects idea of having face of James bond on his back. Another intends to have something big and permanent to remind himself to be a person who is more responsible and selfless. Anther decided to have tattoo of dragon, he select such tattoo for warning himself.
Finally he get tattoo of dragon emboss on his back. After that He asks himself: Was such a large dragon really a good idea? Why did he get it on his back where he can't see it? Ambiguity pervades Adrian's conclusions about his experience. At the time of writing response essay it is very much essential for you to ensure that your thesis statement represents the main response to the essay.  Your thesis statement should answer the research question.
Thesis statement in above example: A threw himself is not sure about his decision related to having tattoo of dragon on his back.  The article written by Anther contains persuasive arguments which are completely in favor of tattooing.
Main body para 1: The choice of personal experience for this article presents the ideas in more effective manner.
Para 2: Author develops interest in me and intrigued me by emphasizing on idea that getting a tattoo could be expression of spiritual commitment.
Conclusion: Anther was unsure about the idea of having tattoo of dragon on his back. I am totally against the tattooing as it damages the skin.
6 Exciting Ideas by Which We Become Perfect In Response Essay Writing
1.  Understand the text thoroughly upon which you are going to write an essay
It does not make much sense that you are reflecting upon a text and writing an essay but having no fair idea about the text itself. That is why in order to write a genuine essay make sure that you are first reading the complete text of the essay. Only then move further towards writing essay by responding through your viewpoint on the topic with proper evidence. That is the best way to write a response essay for college as well as university.
2.  Make an outline for response essay accordingly
There are two types of essay outline based on the word limit assigned to you for writing a response essay.  There are basically Three-layered essay and five-paragraph essay so you have to figure out the suitable outline for your response essay at first stage, and then draw an outline to write the essay. Here is a step by step guide for writing an essay outline for students of the college.
Carry out some research on the topic of the essay.
Decide a goal to write given essay.
Develop some arguments to achieve that goal.
Make a vague idea in mind about the points to be discussed in each section.
Jot down the highlighting point of introduction, main essay and conclusion in the essay.
It will keep you oriented towards your goal or motif to write given response essay in a better way.
3.  Analyze both the negative and positive points of the text for writing a good essay
Most of the students do not bother about critical analysis of the text before writing response essay. Their arguments and points of the essay appear very simple and general which suppress the quality of essay.
That is why it is crucial to have a good idea about every dimension of the essay in the right way while you are writing it. You need to know about the positive as well as negative aspects of the essay clearly while writing a response essay.
4.  Write the introduction part of the essay
Once the outline of the response essay is done in the next step students are supposed to write best quality introduction for it. Writing an essay introduction is very important to make readers understand about background of the topic and also to hold their interest.
Write your essay by starting it on an interesting note like an eye-catching quotation or fact. It will work as an essay hook to make your essay of high quality. Only write those points in the introduction which you have decided to include in it while preparing the outline.
5. Take your step towards writing the main essay
The main essay should contain all the major points in the form of your response to topic of the essay. It should look genuine and accompanied by relevant facts to make it authentic. Do not write extra things in your essay which have no relation to the text upon which you are showing your ideologies.
Just write your main essay on time and that is too by citing a proper example in the form of evidence to justify your points in the essay. That is how you can finish your response essay main part. Keep it small and brief without making too lengthy to read as readers may lose their interest in reading such lengthy topics. This is the essence of your essay and makes sure that you are not committing any mistake in this part.
6.     Give a conclusion at the end of the essay
Writing an essay conclusion is a must for the response essay and without a conclusion an essay is considered as incomplete. But it is not that easy to write the best quality conclusion for students as it reflects the success of the essay. You need to cite your thesis statement or goal of the essay in this part.
Then compare the thesis statement with the examples from the main part of the response essay. A parallel comparison between thesis statement and examples from essay justifies the existence of essay in real sense. That is why students have confusion while writing an essay conclusion for a college response essay.
Also, it is important to keep an eye on the length of the conclusion in your essay. Every section should have coordination regarding their length to keep the interest intact in the essay that is how a response essay can be finished on time by the college as well as university students.
Those who cannot write a response essay for college even after going through the above tips can seek help from a professional essay writer. Students Assignment Help experts are giving the best online help in writing multiple types of essays. There are so many moments in our life which we want to celebrate with our friends but a load of pending assignments resists us from doing so.
That is why college students start finding some relevant help in writing their assignments at a low cost. Students Assignment Help professionals demand very low charges from the graduates in return of writing their essays and other assignments. Also, free editing and proofreading help is also offered to the students to provide top quality error-free assignments.
In case you are not able to complete your half-written essay then also approach the online essay helper of Students Assignment Help round the clock. Essay writing help will be given within strict time deadlines by experts to college students on multiple topics.