Thesis vs Research Paper
05/14/2019
|
George Orwell
|
929
Finding out a difference between thesis and research paper is very tough owing to a lot of similarities between them. Here a few differences between the two are enlisted below by the expert thesis and research paper writers of Students Assignment Help.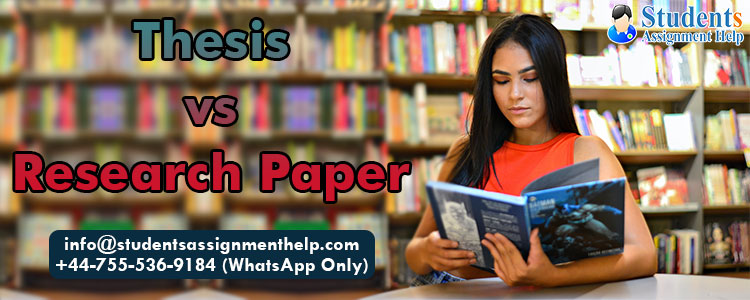 Before developing the understanding about difference between research paper and thesis, let first gain knowledge about both the term.
Definition of Thesis
Thesis is basically a academic document which students  write for obtaining academics degree. Students studying in final year  of their graduation need to prepare thesis  before issuance of degree from educational institutions. You need to write thesis under supervision of Supervisor  who will provide guidance and  give feedback on the draft of thesis. The main purpose of writing thesis is to gather , analyse and present information in front of  mentors by respective university. A thesis is broader. Students have to select the topic which should be relevant to field to the area of specialty. You need to get your thesis approve by supervisor . You may have to spend number of months for writing thesis because it is quite difficult to collect and analyze data. Therefore, it is very much essential for you to follow proper process . In many of the countries where students call thesis as Dissertation.
Meaning of Research Paper
Research paper is basically an individual academic document . It is basically a  publication of research findings which you need to publish after properly analyzing the data which you have collect by applying different techniques. Basically research papers are short in length in comparison to thesis. Research paper only contains description about specific and relevant information .  On the other hand, thesis mainly concentrates on broader field. A research paper is basically a document which contains  the research results which you draw from  information that you have collect. It  has own document , there is specific methodology which you need to follow. Every academic paper has own journal in which you  can publish . Fir instance, for the journal of international marketing  you need to publish information related to marketing only. Researcher papers is a contribution of researcher in the field of specialty.
Major Differences between research paper and Thesis
| | |
| --- | --- |
| Research Paper | Thesis |
| The main objective of writing research paper is to make significant contributions in specific field. | Students write Thesis for education purpose. Generally student write thesis for obtaining master or bachelor's degree. |
| Research paper mainly contains specific and narrow description on the subject. | Thesis is broader. It does  not contain description of subject or topic. |
| You need not require guidance from supervisor. As research paper are generally published by journals. | You for writing  thesis need proper supervision and guidance from supervisor. Research paper can be kept in the record of university. |
| Research papers are short in length. You need to write research paper mainly in 5 to 8 pages. An approximate  word count for research paper is 3000 to 5000 | It is basically a lengthy document . Word count of thesis basically ranges from  12000 to 20000. You need to write thesis basically within 35 to 40 pages. It is |
| Researchers, audience, organizations, firms and businesses are the audiences of research paper. | Set committees, tutors , supervisors are generally audience .Thesis statement does not contain new finding that is beneficial for the businesses . |
| Research paper only describes the data specifically. You need to write the research paper in concise and clear manner. | Thesis includes detail description of each and every term. It also contains suggestions for further studies . |
| After validation of research paper you need to do citations and provide references for other studies. | As the final document of Thesis is not published and mostly kept with the university records. You can not use thesis for further studies. Students can not cite other studies. |
 Comparison between structure of Thesis and research paper
The main difference between two is  related to structure.
Structure of Research paper
Title page : research paper begins with title page. On the title page of research paper you need to mention  the name of author, year of publication  and all other relevant information.
Abstract :
It basically contains detail overview of research paper.
Introduction :
In this section, you need to clearly state  the topic . Students also need to provide reason for selecting particular topic .
Here, you need to clearly define the techniques which you are going to use for performing research.
Results:
in this Section author describe the results and findings which are the outcome of the data analysis.
Discussions :
You need to have discussion on the basis of results  and findings.
Conclusion :
Here, you need to provide summary of key points. Students should also demonstrates the importance of study, s it will help you in  developing interest of reading among reader.
References:
This section contains list of resources which you are going to use for writing research paper.
Structure of Thesis
On the other hand, Thesis begins with research proposal  which you need to submit to tutor. After getting the approval from the supervisor , you need to follow below structure
Title page:
On the title page of thesis, you need to write the name of students and instructor, date and other relevant information related to subject.
Abstract:
Abstract in thesis mainly consists of single page summary of complete thesis . It only include the main point of Thesis.
Introduction :
Students need to include background information about the topic  in introduction section of research paper. It is also very much essential for students to clearly states the aims and objectives of their study.
Literature Review:
In lLiterature section of thesis, you need to include debates,  opinions of different authors about specific topic.
Methods:
Here, in this section of thesis, you need to clearly state the techniques which you are going to use for data collection, analysis and interpretations. It also contains  description about research design, questionnaire etc.
Results:
It is a basically a important part of thesis. You need to provide description of the results on the basis of information which you have collect from different sources.
Discussion :
In this section of Thesis,  students needs to have discussion on all terms or main idea.
Conclusion :
It is basically a end of all chapters in Thesis.   Here, students need to provide summary of important results.
Recommendations:
In this section of Thesis, you need to address gaps in literature and need to provide suggestions for filing the same.
Here, you need to include name of authors  and articles which you have use for writing Thesis .
Bibliography
It is the section in Thesis which contains  the links  which you  or other researcher may use for gathering information . You can also include the research questionnaire form in this section.
Need Help in Thesis or Research paper writing ? Contact us
The reason that most of the students fail to write quality thesis paper . As they have misconception  about various academic assignments . You can seek professional help for completing different types of assignment at  reasonable costs. Students Assignment help iss basically a reliable support system for the students for all those students who really need help for finishing the assignments.