Write an Ethnography
11/29/2019
|
George Orwell
|
708
Ethnography is written by analyzing a community or society based on their day to day life, culture, and customs. The person who is writing must be acquainted with the society or community on which the Ethnography is being written at a personal level. Writing Ethnography is a crucial part of Anthropology studies to know the history and customs of a particular race or tribe.
A few tips on how to write an ethnography are given here by experts and with the help of these tips, you can understand the essence of writing Ethnography aptly. From preparing the topic of the Ethnography to making its outline everything is illustrated step by step here.
Professional Ethnographers have given these tips for those who are supposed to write a good Ethnography in Universities of the United Kingdom as a part of their Anthropology assignments. UK students can easily follow these tips for writing Ethnography in colleges of London, Oxford, and Exeter and Manchester, etc.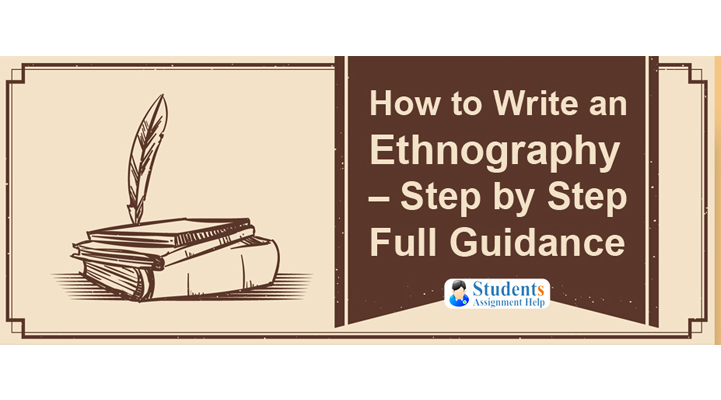 What is Ethnography?
Ethnography refers to a branch of science that includes the study of culture, beliefs, life, and communities of a specific ethnic group. It is a sort of research that is carried out on a particular tribe, race, or community by Ethnographer. The customs, culture, traditions, lifestyle, and living behavior of a community are observed at a personal level while writing Ethnography. The person writing Ethnography must have appropriate knowledge about the community on which research is being done. It is an inseparable part of ethnic studies in sociology discipline. The study is performed to trace an ancestral history of a particular ethnic group or a cultural element of such groups of society by analyzing the behavior of the present generation.
Outline for ethnography Paper
The outline of ethnography paper includes the following components these are:
I. Introduction
In the introduction section, you need to include the following :
A) begin with a hook. It will help you in grabbing the attention of the reader.
B) Highlight your assumptions about research.
C) Re-write research Questions.
II. Main body section
Provide background detail.
A) Write background information about the topic.
B) Demonstrate significance of the topic.
Literature observation
A) Provide information about literature that you have utilize for research.
B) Give a reason for the selection of particular sources.
Research information
A) Provide your research guidelines
B) Give a description of the method of observation.
C)  Write information about the result which you have obtain  from data collected.
III. Conclusion
A) Re-write research question
B) Provide a summary of the main points in the research paper
C) Write description about what you have learned from your research.
Step by Step Guide for Writing Ethnography for Anthropology Assignments UK
Students pursuing Anthropology courses in social studies are often asked to write an Ethnography as a part of their coursework. As a result of which it is essential for the anthropology graduates to understand the way of writing Ethnography.
Step by step guide for writing Ethnography is given here by the professional Ethnographers which can be followed to write superior quality Ethnography. By the time you will read these tips carefully it will become easier for you to write the best Ethnography for any of UK College or University. 
Step 1. Selection of Topic is the Primary Aim
Finding research topics on sociology for writing Ethnography is the primary step that needs to be taken by the Ethnography writers. The topic must be of writer's interest . Long patience is require to carry out research for writing Ethnography and interest on the topic evokes that patience.
Ponder on your area of interest on which you want to take your ethnography research as a professional.  You can take the help of your professors, friends, and ponder yourself to analyze your interest to find a suitable Ethnography topic for you. 
Step 2. Exploring the Subject of Ethnography 
Once the topic of Ethnography is clear in the mind of a writer the next step is to understand the target subject of the research. 
For better exploration and superior research, one can spend some days within the community on which the Ethnography is to be written. Social interaction with the people of that particular culture, debates within intellectual groups, etc. are going to give you a broad perspective for writing your Ethnography at its best. 
Step 3. Preparing an Outline 
While preparing the outline of Ethnography it is important to keep in mind that what is the structure of writing Ethnography. The use of inappropriate format for its outline can completely ruin your hard work. It is also beneficial to go through professionally written Ethnography before proceeding to write the one. 
Step 4:  Define Thesis
The selection of the topic is very crucial, but you can not write a number of pages on a specific topic which is too broad. Before starting to write an ethnographic paper, you need to significantly narrow down your topic and write a thesis.  It is a step, where you need to establish guiding questions that will guide you throughout your research process. You can utilize the thesis for answering your research questions.
Step 5. Write to the Introduction
Discuss the topic of Ethnography on which you are doing your research.

Research methodologies

used to finish your research on the topic successfully should also be described in the introduction.

Give an account of your research resources which you will  utilize for research, how you utilize them to reach a conclusion without going into details.

Always begin the introduction of your Ethnography in a very engaging way to have a command on the reader's attention.

Do not over cross a set limit of words while writing the introduction of Ethnography as readers will lose interest in such type of Ethnography.
Step 6. Write to Body
In the second main body paragraph of Ethnographic paper, you need to present arguments and research solutions. Have a look at the major points that you should include in the body part of a good Ethnography. 
Give your thesis in the first part of the body paragraph while writing Ethnography.

Highlight your research arguments and points.

Give an account of your interpretation and inferences of research on the topic.

Describe your findings in the research in your ethnographic paper as well. 

Keep your arguments and research findings very clear and they ought not to look clumsy to understand for readers.
Step 7. Write to the Conclusion
 While writing Ethnography's conclusion one must keep an account of following this in mind. The conclusion is the wrapping point of Ethnography and thus should be written with the utmost attention.
Talks about your thesis or line of argument in the main body paragraph of your ethnographic paper.

Illustrate step by step in a brief manner that how your Ethnographic studies are relevant to prove the thesis in an effective way.

Cite some examples from the main research to substantiate your thesis of the research.
Step 8. Write the References and citation in Ethnography
The final last but not least part of writing an ethnographic  paper is to cite its references and resources at the end. There are different types of essays, articles, and ground data resources that you need to incorporate in research for writing an ethnographic paper. If you will not be given an account of these resources in your ethnographic writing the plagiarism factor is going to be there.
That is why make sure that you are citing your resources in the last part of ethnographic writing. The format of citation that is MLA format of citation and APA format of citation should be followed aptly as per the suggestions of professors. It is worth noticing that you must follow authentic and genuine resources for your research to write an ethnographic paper.
Step  9. Editing and proofreading of the paper
Once you have written your ethnographic paper it becomes important to go for its punctuation and editing. Proper editing and proofreading are important to check any kind of mistake in the ethnographic paper. You need to edit spellings, sentence construction, grammatical errors, and punctuation after completion of ethnographic. Submitting your work without checking the mistakes can fade the impression on professors even when you have spent a lot of time doing research.
So make sure that you are going for this final step of rectifying your errors in the ethnographic before handing over it to professors in college. You can also hire best Ethnography editors and proofreaders in the UK for editing your Ethnography work as well.
Example of ethnography paper
Topic: Social media Analytics
Social media is a platform that approx. 2.4 billion people use. On average there are approx. 5.53 billion social media accounts. On twitter, there are approx. 500 million tweets the network has 310 million active users each month. It demonstrates the volume of clients' feedback available to the researcher.  Researchers share posts organically on topics that are important to the consumers. It makes social analytics a great example of digital ethnographic.
Tips for writing ethnography paper
Below are a few tips which students can utilize for writing the ethnographic research paper these are:
Select a topic with which you are familiar.
|It is very much essential for you too define the thesis at the very beginning.  The thesis is basically a guiding question. Therefore, you need to perform in-depth research for answering such questions.
Students can write an introduction later.
You should prepare an outline before starting to write an ethnographic

 

paper.
After writing

ethnographic

paper you should pay attention to references and citations. Ir is very much important for you to utilize such citation style which your tutor recommends.
Seek best Ethnography writing help from Students Assignment Help in London, Exeter, Oxford and Manchester
Students Assignment Help experts are offering the best Anthropology assignments help in the UK to graduates in writing ethnography. Those who are unable to write a good ethnographic study can easily ask for professional help from UK assignments helpers. Our experts owing to a long experience in this field write the best quality ethnographies.
Apart from the ethnography writing services in London and Oxford, you can also avail other types of anthropology assignments help from eminent scholars. For example essay writing help, thesis help, research paper help, and term paper writing services are available for UK graduates easily.
One can also seek sociology assignments help in Cambridge and the rest of the United Kingdom from Students Assignment Help. We provide high-quality assignments at reasonable costs.