80 Best Topic List of Social Works Dissertation for Students
Modified: 16th Sep 2020
|
1167
|
Literature review social work dissertation topics for college students:
Life-long education and the challenges of modern technologies.
Social work in media.
Describe the health issues that can arise because of poverty.
Relationship between social work and spirituality.
Individuals suffering from fibromyalgia and their healthcare experiences.
Discuss the issues leading to cause runaway tendencies amongst teenagers
The Effects of Multi-Agency Working on Protecting Children's Rights
Classifying drinking styles: reasons for college and university drinking problems.
The effect of the media.
The significance of motivational practices at the workplace.
Effectiveness of an International Social Work Course.E
The influence of physical changes during adolescence on children's psyche.
The importance of motivational practices at the workplace in the UK
Psychological Intervention for Emotionally Disabled Children
Edublogging for college and university personnel: promoting higher education via social media.
Multi-agency working and its effects on the safeguarding of children.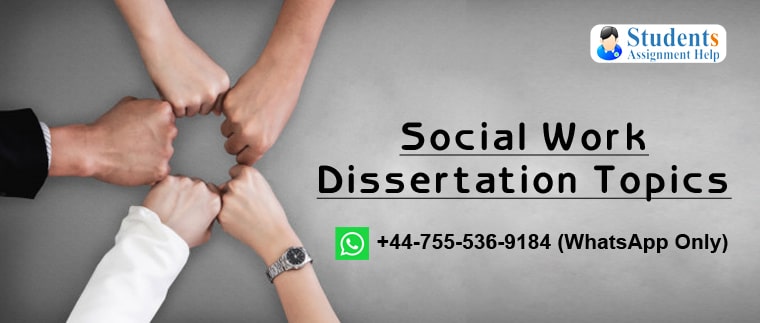 Social work dissertation proposals examples for college students:
Impact of aggressive environment on young ones.
What are the stress and tensions that are faced by the caregivers of persons with special needs?
Culture-based activism and its role in the lives of Native Americans today.
Explain the health problems that arise from poverty
Is it necessary that victims of child sexual abuse should be treated and asked openly?
Between Baby Boomers and Millennials, the psychological challenge of a Human Resources Management
The practical challenges of inter-professional practice in social work
Sexual abuse of Child in families.
Exploring knowledge of sexual assault prevention programs.
Client satisfaction: how far should you take it.
How can a family support an autistic child
How client satisfaction is related to social work?
Gamification of the learning process for museums, archives, and libraries.
The safeguarding of vulnerable adults.
Reasons that give rise to divorce cases.
How social workers work with the incarcerated population?
Interesting social work dissertation topics for college students:
Opportunities for employment for survivors of domestic violence.
Impacts of the violent environment on children
Role of social working groups to help the kids suffering from Trauma.
Edublogging for college and university personnel: promoting higher education via social media.
Measures for the personal safety issues of social workers.
Stress caused by employees due to increased workload.
Social workers perceptions of resource family approval.
Should therapists ask childhood sexual abuse victims about their thoughts on sex with children?
Age-related changes in juvenile law.
The Relationship of HIV Positive Individuals
The effects of trauma from multiple placements of foster youth.
How to deal with stress, self-compassion and coping mechanisms related to the social work of graduate students?
A study of women who are married to sexually addicted men.
The increasing workload of employees causing stress
The causes and prevention of youth recidivism.
The Historical Development of Social Work.
View also: Free Sociology Dissertation Topics and Ideas
Social work topic for presentation for college students:
Understanding social support among dialysis patients.
Healthcare for older women in (country of your choosing).
Causes that give rise to divorce cases in the UK
Effects of Bullying to Pre-School students
How parental support can affect the well-being of social work students?
Perceptions of the aging population.
Living with obsessive-compulsive disorder.
The Influence of Adolescence Physical Changes on the Psyche of Children
How social workers should deal with the person who decides to end their life.
What should be done for the empowerment of female defenders?
Youth recidivism: causes and prevention.
A Review of Mentoring as an Essential Component of Social Work Training.
The importance of implicit bias for public defender social workers.
Religion and spirituality in clinical practice.
Surviving abuse and reintegrating in society.
A Model for Life-Long Learning on Evidence-Based Practice
Must View: Free Social Work dissertation topics, Dissertation Topic for Social Work students
Seminar topics for social work dissertation for college students:
Women Leaders in the Community
Transiting from the previous Employment to Social Work: A change of the Career
Supportive housing options for youth.
The process of holding back: A practical application of user service empowerment.
Write a review on how social work training is related to mentoring?
The factors responsible for childhood to become a victim of domestic violence.
Healthcare services for immigrants.
The Risk of HIV Among Women
Career shift of the student with respect to social work.
The necessity for the improvement of the chronic disease self-management program to enhance the results.
The Policies of Coalition Government Regarding Social Work
A review of the policies of the coalition government on the basis of social work.
How the social workers can help the members of clergy, self-care and compassion fatigue?
The Impact of Media on Pre-School Behaviour.
How to ensure the security of food on the campus of a college?
Healthcare Experiences for People Who are Diagnosed with Fibromyalgia
Having confusion on preparing a dissertation on social work? You can cope up with it by taking our help:
Still facing problems in crafting a perfect dissertation on social work topics? Then no need to worry. You can resolve all your problems and confusions by taking help from the expert writers of students assignment help. We can assure you that by joining with us, you will be free from all dissertation-related tensions. Also, you can buy a perfectly written dissertation from us at the lowest price possible.