Importance Of Higher Education In 21st Century Essay
06/02/2020
|
George Orwell
|
635
|
Higher education is a basic need for succeeding in today's life. Students think that completing a bachelor's degree is sufficient to get a good job in the 21st century. You can earn good money from a reputed job. But, in the future, you will ask yourself why you didn't complete higher education? and you will realize the importance of higher education. There are certain stages that came in life when your office mates will be promoted and you will not get the desired promotion. So no need to worry about that, you just only have to take step toward Higher education and then you will get the Importance of it.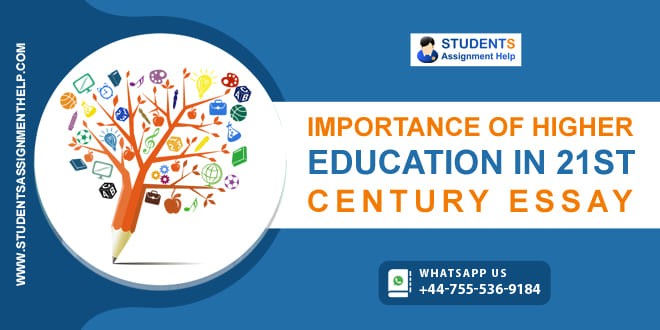 Benefits Of  Higher Education

Before this, we discussed Higher education so let's take a look at benefits of it. Below you will get some important points of higher education after reading that you will get the importance of higher education.
Make More Money
When you will complete you higher education you will have a Master's degree in your hand. The degree is the symbol that you have vast knowledge in your field. You will get a higher job position in top companies and you will experience that you are earning more money in comparison with your friends who have not completed higher education in the same field.
Professionalism
Employers always hire professionals. Everyone wants to become successful personally and professionally but Professionalism doesn't come with a degree your behaviour and other skills make you professional So pursue in the related field for your higher education then You will become familiar with the working atmosphere of the industries related to your field.
You Will Learn To Solve Problems
Completing higher education is not a simple task. You have to face various problems during studies and it will polish your skills and talent. It makes you able how to solve problems quickly? You will learn the analytical and critical learning approach here.
Promotions
People who have completed master's degree got promoted quickly in comparison with other employees without higher education.
Advantage during interviews
Employers welcome scholars having good knowledge and high degree. Master's degree is a symbol that a person has excellent knowledge; he/she will get an extra advantage during interviews over the people with a bachelor's degree.
Deep knowledge
Higher education offers you complete knowledge. Professors and teachers will teach you all the basics related to your subjects. You will get both theoretical and practical knowledge.
Lifestyle
It will change your complete lifestyle. During higher education, you will get a chance to involve in different-different programs and functions. You will learn various things that will enhance your lifestyle. You will become more modern than before.
Greater Skills
You will gain more skills from college and universities. There are various tasks organized by the college during your studies including time management, intellectual programs, etc. You will get a chance to participate in various extracurricular programs related to sports, culture, etc.
Open Atmosphere
if you have taken admission in higher education then you will get a chance to meet new people belong to different culture and community. You will get the freedom to live your life as you wanted to live like.
Live your dreams
The college will offer you a chance to live your dreams. You will get a chance to prove yourself in other activities like sports You can make a position in the college and university team and prove your talent at a great platform. It can be a turning point in your life; you can get a chance to be selected in the national team of your country or state based on your performance. If you are a good writer, the singer then also you can show your talent to others by participating in various university-level completions.
One Time Investment
If you are thinking about the tuition fee and another course fee then it's a one-time investment. You can get loans from banks and other financial institutes for higher studies. Once you will complete your higher education you will definitely get a high salary and soon you will realize that you have paid your loans in a short period of time.
Have fun
Apart from studies, you will get a chance to relax. New people and new groups will create a happy atmosphere.
Various Options For Higher Education
if you have no time to attend the classes, you have an option of distance learning or online learning. You can take admission in the online higher education program.
More Opportunities
Completing your higher education will open more doors. You can get a job in any sector related to your area of interest. Suppose you have completed your higher education in Information technology then you can get a job as a web designer, web developer, and software engineer and even you can apply for the post of testing engineer.
But, a person who has completed a computer course in testing has no knowledge about the development process and will get limited job opportunities.
Network 
Higher education will also increase your network. You will make new friends and build new contacts. It's a life and one can need help from anyone at any time.