EP4007/EP4407: A Business Model Describes the Rationale of How a Firm Creates: Enterprise Management & Growth/Enterprise Development Assignment, UoL, Ireland
Assignment 1: Developing the Business Model Canvas -Team Project
Overview: A business model describes the rationale of how a firm creates, delivers, and captures customer value to generate profits. The Business Canvas Model allows the entrepreneur to describe and think through the business model across a number of key areas that are interlinked and impact each other as the enterprise moves from concept to commercialization. It is described through a number of basic building blocks that show the logic of how an enterprise intends to make money, and or create impact socially or environmentally. Generally, the building blocks cover four main areas of a business: customers, offer (product /service/process), infrastructure, and financial viability. The business model is like a blueprint for a strategy to be implemented through organizational structures, processes, and systems.
The preparation of a business/social business model canvas will entail a professionally presented canvas diagram, as well as detailed notes for each of the canvas blocks block. Your notes should clearly explain and critically validate the model decisions presented in the diagram. It is important to note that a business/social business model is based on research. Research underpins and tests the assumptions that all business models have. It is therefore expected that all annotated business model canvasses exhibit desk research. A key component of the assessment is the quality of the research. You are unlikely to be able to produce a convincing canvas that is based on insufficient or non-existent research. There is a clear and precise structure for a business model canvas, which will be presented to you in class. However, the structure for presenting and communicating your explanatory supportive notes is left to your own judgment, although all elements of the canvas must be addressed, and an executive summary prepared. This assignment will be supported by workshops.
This assignment consists of 3 interlinked steps outlined below. Step 1 involves identifying an enterprise and developing the business canvas based on the analysis of where the firm is now. Step 2 requires you to review and critique the business canvas that you have chosen, taking into consideration external changes and more specifically the impact of Covid 19. Step 3 requires you to propose a newly revised business model canvas for your chosen enterprise. Please see below the requirements of each step.
Step One: Identifying and Developing a Business/Social Business Model Canvas for an Existing Business
Identifying your enterprise
As a team, you are required to research an existing enterprise with a view to developing and completing a business model canvas for your chosen firm. The enterprise may be a commercial or social enterprise. You can choose a firm from any of the following resources as outlined in Table 1, or a firm that you are familiar with. The enterprise can be operating in any sector so please feel free to choose a sector you are familiar with, have an interest in, or experience with e.g. biomedical, equine, mechanical technology, etc.
You are required to outline the rationale for your enterprise choice and provide an overview of the enterprise.
Table 1: Enterprise Choices
| | |
| --- | --- |
| Commercial Enterprises | Social Enterprises |
| | |
| You may choose any company listed in the Enterprise Ireland Start-Up Showcase Directory (2020). A copy of this directory is posted on Sulis. This directory represents new start-ups and high potential growing firms in Ireland. | Social Entrepreneurs Ireland is an organisation dedicated to supporting social entrepreneurs, and individuals in developing new, innovative solutions to address the entrenched social and environmental challenges that we face. The website provides profiles of social entrepreneurs and their firms. There is also a documentary series outlining how these social entrepreneurs have impacted society: https://socialentrepreneurs.ie/changing_ireland/ |
The first time you engage with the canvas, you should print it and use it as a working document. You will find copies of the canvas on Sulis under "Resources". Here is what the canvases look like:
Business Model Canvas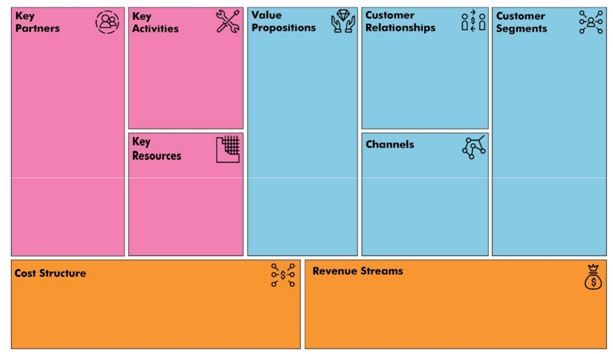 Social Business Canvas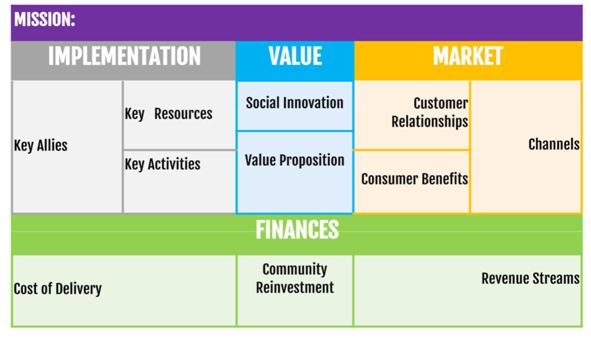 Developing the BMC for your chosen enterprise
The analysis will allow you to identify questions that need to be addressed. As you start to address these questions, insert the answers into the relevant section of the canvas, and continue to move to address the next areas. Start from a blank canvas and add notes with keywords to each building block of the canvas. If you use 'sticky notes' for this, you can move ideas around as you fill out each building block in the canvases. The canvas must be built on. Therefore in order to chart and keep visual progress of the evolution of the business concept, you may have to develop a number of canvases. At the end of the semester, you may have collected numerous canvases (based on your research), which will allow you to compare the progress of your canvas development from the first edition and will assist you in the writing up of your submission. You can add these various canvases as an Appendix to your submission. Your document should address the following elements:
Introduction: This section provides an overview of the enterprise and the rationale for choosing this business. This section should provide the business name, along with a brief business profile.
Problem Identification/Solution Development: Provide a detailed description of the problem this business solves through their product/service offering. Identify the unique offering to the customer profile of this particular enterprise.
Target Customers: Emphasis should be placed on the key customers of this business. You can provide a comprehensive explanation of the target customer using the Value Proposition Canvas (VPC).
Analyse the building blocks: you are required to provide a completed business/social business model canvas (with between 3-5 points for each block). A narrative should be provided that provides a synopsis of each block. References should be made to the secondary research, for example, existing published information relating to your market, industry, competitors, customers, images of products, customer testimonials, etc. that has informed your canvas and provided you with a more informed insight into the market demand for the product/service offering. Primary research is not required. A list of references should be included in your bibliography.
Having completed the canvas, you can now proceed to Step 2.
Step 2: Navigating and Operating in the Design Space– reviewing and critiquing the BMC
Aims/Requirements: Business models are designed and executed in specific business and social business environments. In order to succeed entrepreneurs must develop an understanding of the business environment in which they operate, and adapt their business model to more effectively shift and pivot in response to external forces. In essence, the business environment can be viewed as the design space in which the business model operates.
Taking the canvas that you have designed in Step 1, this assignment requires you to conduct an in-depth analysis of the business environment, focusing on:
Environmental Analysis: you are expected to identify and analyze the key economic, social, technological, political, and regulatory changes affecting your chosen enterprise.
Industry Analysis: In completing the industry analysis, you should critically evaluate the position of the enterprise at both an enterprise and product/service level
Competitor Analysis: In completing the competitor analysis, you should critically evaluate the top 5 competitors in the market. Particular emphasis should be placed on how the novel solution (identified in step 1) differs from existing offerings in the market.
Impact of, and response to Covid 19: Critically evaluate the significant challenges faced by the enterprise in managing and mitigating the disruption that COVID-19 has caused to every aspect of their operations.
You can now proceed to step three.
Step 3: Revising the Business/Social Business Model Canvas 
Aim and deliverable: Having completed steps 1 and 2, the team will create and develop a revised business/social business model canvas. It is expected that the research conducted on new environmental, industry, customer, competitors, and more importantly the effect and impact of Covid 19 should provide additional content for each of the blocks of the canvas. Teams are expected to identify the opportunities/risks and/or issues that they see or anticipate for the enterprise. These opportunities/risks and/or issues are prioritized and further discussed the changes and anticipated effects. A revised canvas will is developed with suggestions/recommendations on five of the building blocks. The assignment should address the following:
The opportunities/risks and/or issues that stem from the analysis of the business environment are identified, prioritized, and justified.
Revised BMC: A revised business/social business canvas should be developed with suggestions/recommendations on at least five of the building blocks (of your choice). A detailed discussion on the rationale for the proposed recommendations/changes is given on each of the blocks you have identified.
Assignment 2: Leading and Managing an Entrepreneurial Organisation- An Infographic Approach Individual Assignment
Overview: Leading and managing an entrepreneurial organisation is a distinctive challenge that requires some specific skills and capabilities. Entrepreneurial leaders realise that organisations are networks of individuals, all exercising some form of leadership. No one person is in total control, instead, everyone is open to influence through patterns of relationships. Entrepreneurial leaders learn to soften hierarchies, giving people more independence and autonomy, but with a clear sense of purpose and responsibility.
They learn that they have just as much, if not more, responsibility as they have power, and the real power is their ability to persuade, not command, their entrepreneurial teams. They do this by developing entrepreneurial mindsets and building high-performance entrepreneurial teams to create entrepreneurial organisations.
This assignment requires you to design an infographic addressing one of the following "how-to" themes:
| | |
| --- | --- |
| Theme 1: | How to….."Develop an entrepreneurial mindset in a small firm context" |
| Theme 2: | How to…. "Develop and manage high-performance entrepreneurial teams in a small firm context" |
Quick Connect