PGBM01: You are a Financial Analyst at GP Electricals Plc; a Public Limited Company: Financial Management and Control Assignment, UoS, UK
Part A – GP Electricals Plc2
You are a financial analyst at GP Electricals Plc; a public limited company specializing in manufacturing and distributing electrical generators. The Board of Directors has looked into the financial statements of the company for the last two years and have raised concerns regarding both the company's profitability and liquidity. The financial statements of GP
Electricals for the last two years are given below: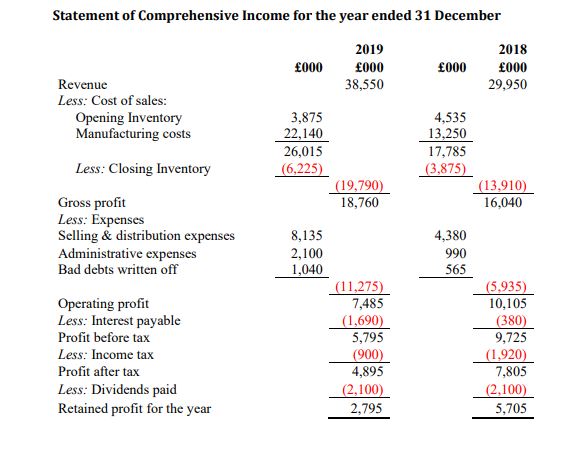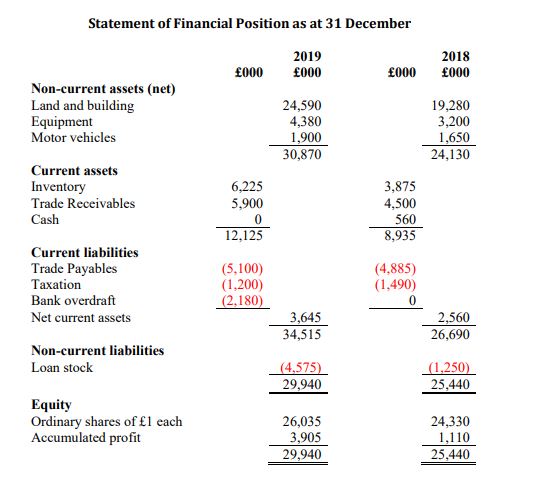 Required:
1. Prepare a report for the Board of GP Electrical Plc. that evaluates the performance of GP Electrical in relation to profitability, liquidity, gearing, asset utilization, and investor potential. Your report must be supported by the calculation of relevant ratios in the five evaluation areas mentioned above.
2. Calculate the Working Capital Cycle in days for GP Electrical Plc based on the information above, assuming 365 days, for the years 2019 and 2018 AND briefly comment on the company's liquidity position in 2019 compared to 2018. (round to the nearest day)
3. Critically evaluate the limitations of using ratio analysis for both cross-sectional and time-series comparisons.
Part B – Venmac Ltd
Venmac Ltd is specialized in producing and selling ventilator machines. In 2019, the manufacturing cost per unit included: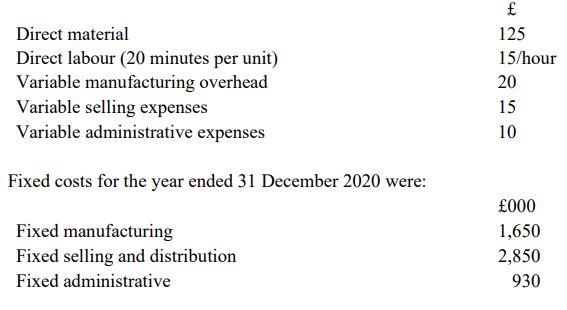 The company produced and sold 45,000 units at £300 per unit.
In 2019, management has decided to increase the selling price by 20% and to maintain the same contribution margin ratio as last year. This increase in price is to meet an increase of £1,450,000 in fixed costs in 2019. The company has produced and sold the same quantity in 2020 as last year.
Required:
1) Calculate the break-even point and margin of safety in both units and revenue for the two years, 2019 and 2020, and briefly analyse the results.
2) Critically evaluate the key assumptions that underpin the break-even model, assessing and analysing whether the model can be applied within the context of today's global business environment
Part C
Required:
1. Financial managers can fund potential investments and expansion plans through accessing a range of differing sources of finance. Explain and critically evaluate a single source of both internal and external finance that could be used by companies to finance further investment programmes.
2. "Most companies allocate the same resources to the same business units year after year. That makes it difficult to realize strategic goals and undermines performance". (Hall, Lovallo and Musters, 2012)
Required:
Critically evaluate the use of zero-based budgeting as a means of addressing the above problem in a challenging business environment. You are encouraged to use illustrative examples, to support your discussion.
Our professional assignments writers are very much knowledgeable in the field of financial management and control (PGBM01) and thus will provide you with an assignment you could have never imagined. With such qualified writers and professors, we assure you that you won't get a financial management assignment help better than us. So take our help in your assignment writing and achieve A+ grades at Sunderland University in the UK.
Quick Connect