Solved:-The POM+ Project* Big Kola Company Has Been Concerned….
The POM+ Project* – Big Kola Company has been concerned that specialized fruit drinks have been eroding their cola market. The CEO mandates that "If you can't beat them, join them." Grape juice was the first product that was successful after an advertising blitz claiming the antitoxin benefits. Lately, competition is compressing grape juice margins and profits. Months of additional market surveys and focus groups have resulted in three potential high-margin drinks: cranberry, blueberry, and pomegranate. All these choices represent antitoxins. The decision is to produce a pomegranate drink that has many health claims. For example, the relative ability of these juices to eliminate harmful free radicals (antitoxins) is 71 percent for pomegranate, 33 percent for blueberry, and 20 percent for cranberry (Technicon Institute of Technology). The market potential appears very attractive and should have a higher profit margin that the other potential juice products. Another appeal for the pomegranate juice is its familiarity in the Middle East and Asia. The proposed budget for this project from the business case is 2 Million.
The Priority Matrix for the POM+ Project is: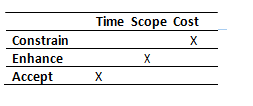 Part 1
Develop the WBS outline using MS Project.
Use this file and the information provided below to create a project schedule.
Project Information
The project team works eight-hour days, Monday through Friday.
The Project will begin on July 6, 2020.
The following holidays are observed: Labour Day 26 October, Christmas Holiday Shutdown 23/12/20 to 08/01/2020, Auckland Anniversary Monday 1 February 2021 Waitangi Day 8 February 2021.
Work Break down Structure
The project manager has formed her project team and the members have come up with the following work breakdown structure.
POM+ Project
R&D Product Development 1.0 Need Analysis
2.1 Set product specs
2.2 Product Life Report
2.3 Shelf Life Report
2.4 Nutrition Report
2.5 Fruit supplier Report
Test Production
Select fruit brokers
Test Production
5.1Equipment rehab
5.2 Production trials
5.3 Quality trials
5.4 Quality metrics
5.5 Quality training
5.6 Health and Safety Procedures
5.7 Label design and testing
Distribution
6.1 Market testing
6.2 Package design
6.3 Select distributors
Legal
7.1 Complete MPI food certification
7.2 Register trademark
Prepare product launch
Studentsassignmenthelp.com is a top brand providing operations Management Assignments Help to students from top management schools, colleges, and universities in the world. We have a group of knowledgeable and proficient homework helpers to solve all your academic assignment problem and present you with interesting and exciting work.
Quick Connect