Personal Reflective Essay Topics
A personal reflective essay refers to the type of academic writing which is written to describe, examine, and observing the author's own experience. Such type of essay writing requires getting focused on the intense inner emotions instead of focusing on an event.
The essay should be written to reflect the writer's inner feelings. The best way to write such essays is to keep your focus on your personality. By reading such essays, the reader should get an image of the author's personality and feelings.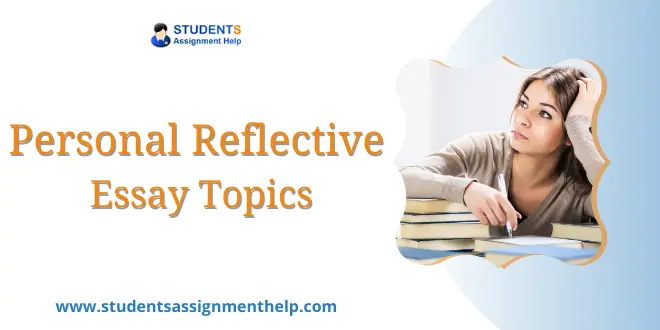 Trendy personal reflective essay Topics: Ideas, Titles & Writing Tips
Always choose a topic that gives a reflection of your memory.
Begin the essay by describing the experience in detail to make the reader feel their presence there.
The thesis statement should contain the implication of that particular memory.
Write effective body paragraphs.
The conclusion of the personal reflective essay should contain the statement related to what you have learned from that particular experience of your life.
Structure of a personal reflective essay:
The general structure of a personal reflective essay is the same as any other academic paper written by students.
Introduction: The introduction part of the personal reflective essay contains the thesis statement that should be able to grasp the attention of readers and generate their interest in the reading process.
Body paragraph: Give a detailed version of your topic sentence here. Normally the body paragraph contains 3 paragraphs, each describing different events.
Conclusion: It contains the overall picture of your writing and what you have learned from that particular experience of your life. It should have a takeaway message for the reader.
Best Personal Reflective essay topics on major events:
Your first voting experience.
Experience of the day when you fight for someone else's sake.
Any book or movie that has a great everlasting impact on you.
An off-day experience from your school or work life.
Have you ever been victimized by robbery?
Any of your memorable dream or nightmare.
Explanation of anything that you didn't like for the first time but then it becomes a very important part of your life.
When your computer crashed and you lost all your memorable photos.
Eating food or dish that you don't like at all.
Your first memorable date and with whom?
Unique Personal Reflective essay topics on significant places based on your memory:
Your workplace experiences.
Your best childhood vacation spot.
Going to a place of worship that does not belong to your religion.
Your most preferred online space.
Your favorite restaurant.
Your dream place for the destination wedding.
The place you had a horrible experience and you don't want o visit again.
Your favorite mall or store for shopping.
The experience of your hometown.
Your first date place with your wife.
New Personal Reflective essay topics on outdoors and nature:
Do you like dancing in the rain?
Do you like outdoor running?
Any experience with a natural disaster.
Do you enjoy visiting the zoo and animals see?
You're favorite pet and memory if any.
Experience with birds while they build their nests.
Have you ever visited a field full of wildflowers?
An experience of kissing in the rain.
Looking at the water while standing on the bridge.
A beach experience.
Updated Personal reflective essay topics based on Relationships:
Your best gift to your parents.
To whom do you share your secrets?
A person whom you find scary.
Your first adventurous trip with your friends.
A weekend trip without parents.
Top 10 most significant qualities in a person that is must according to you.
How did you overcome your stage fear?
A laugh with someone that you remember.
Your memorable summer vacation
Importance of family in your life.
Good Personal reflective essay topics for college students:
Have you ever been punished by your teacher?
A memorable experience from college life.
How do you manage between college and a part-time job?
Do you prefer cheating during examinations?
Your life-changing experience from college life.
Social media and the behavior of the student.
Your favorite semester in college life.
The process of shun chores without getting noticed.
Your best professor.
Do you think that your professors were biased?
Personal reflective essay topics based on your daily life for high school students:
It is one of your shameful moments.
What is your normal daily routine?
To whom do you like to watch horror movies?
Your favorite pet animal.
The memorable day of your life (worst or best).
Your normal wake-up time and what's your first job after getting up?
Your first fight with your best friend.
First-day experience in your recent job.
A day of whole day power cut.
The first morning thought that comes to your mind.
Personal reflective essay topics about you 2020:
Your greatest strength or weakness.
An event that makes you very angry.
Your best place to live in.
What makes you lose your temper?
What challenges you the most?
Your most embarrassing moment.
Your fits proud moment.
The biggest dream of your life.
When did you come to know that you were in love?
How did you deal with your fears?
Having A Lack Of Time And Want Help For Your Reflective Essay
Sometimes students feel stressed due to lack of time and thinking on how to complete their given personal reflective essay work. You can hire our proficient experts of Students Assignment Help. Students all around the world can take help from our best writers.
USA essay writers offer the best essay writing services to college students round the clock. So if you are not able to write your college essay writing owing to the extremely boring topics then help could be taken from the aforesaid experts. Top-level talented and experienced essay helpers are involved in the process of writing various types of essays for college as well as university students.