How Long Should a College Essay Be
A student usually spends writing and researching on the essay topic provided by the colleges. However, it's quite natural to wonder if your personal statement is entirely written by you and engages the reader towards the essay.
Still, one thing that usually puts the students under immense pressure, i.e., how many words a college essay should contain? Luckily, with a little bit of research, you will determine the ideal length of the college essay for all the applications.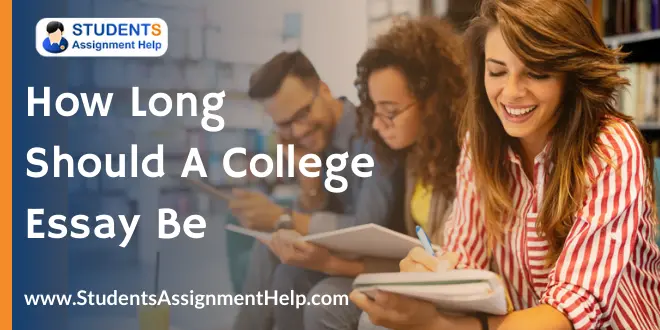 College essays typically have a word limit or range of words and do not follow strict page requirements like high school assignments. This makes sure that you don't cross the specified word limit while writing the essay, irrespective of font or formatting styles.
However, the students are required to stay within the specified deadline and provide all the required details according to the topic of the essay. Therefore, continue reading the article to familiarize you with all the basic and essential details concerning the college length best practices.
Additionally, if you need to get your college essay done urgently, then by choosing student assignment help you can acquire the best USA assignment help from the best writers.
Main College Application Essay Length vs Supplemental Essay Length
Before proceeding with the essay, every student wonders the length of the college essay is? The word length of the main application essay typically ranges from 500 to 650 words.
For example, the common application usually considered when applying in over 800 colleges requires the word length of the essay within 250 to 650 words.
In the same way, the Coalition Application consisting of 150 member schools recommends that the essay's length should be within 500 to 550 words.
However, these 500 words are one of the most common word limits for writing a college essay.
No doubt, several schools might ask the student to write more or less depending on the topics. ApplyTexas usually considered the most popular platform through which you can apply to the Texas Public universities and several other colleges, requests the students to write the essay considering the specific requirement that might be far different from that of schools.
For example, suppose you are applying for the UT Austin; in that case, you will be required to submit an essay of 500 to 700 words followed by the short answer questions consisting of 250 to 300 words.
Several schools might ask you to provide 1-3 supplemental essays, though some schools might ask even more than that or none at all.
Remember that the supplemental essay's length typically ranges between 250 to 300 words, whereas other supplemental essay word lengths might be the same as your primary essay.
Can You Go Over/Under the College Essay Word Count?
All the students must comply with the word limit specified by the respective colleges. If you write to fewer words specified by the colleges, it might appear like you are too careless and don't care about the specified requirements.
In contrast, if you write more than the word limit as specified by the college, then it will be considered that you do not follow instructions properly or can't write a concise essay.
In order to acquire a positive outcome, always keep in mind to keep your essay within the word limit specified by the colleges.
However, it's not any sort of rule that you have to write precisely the same word as specified; instead, you can aim to be within 10% of the difference of the upper limit without stuffing the words in the content.
So let us understand with the help of an example, if any schools ask you to write a 500-word essay, then to avoid stuffing or fluffing in the content, it's better to be between 450 to 500 words.
It's always a better and professional idea that you do not exceed the word count since most application portals reject your writing when you exceed the word limit provided.
What If a College Essay Word Count Isn't Given?
Though most colleges provide the word limit to the student to write the essay, some offer basic guidelines to follow while writing an essay. For example, some colleges might ask you to write several pages or paragraphs.
In case there is no specified word count provided by the college, then try to be within the best writing practice and conventions. To avoid writing too short or too long paragraphs, it's an excellent option to be within 250 words per paragraph, which is a relatively safer upper limit. Suppose you are asked to write several pages, single or double space, then it's better to stick to the standard font style and size.
If at any point in time you are not provided with a specified word limit to write an essay, and then go with writing an essay length of 500 words which is considered as the average limit for an essay that is neither too short nor too long.
What If You Need to Submit a Graded Paper?
Essays are considered one of the most commonly requested writing samples by colleges. Apart from the essay, some colleges also ask for additional content to get an idea of the writing style.
Students at Amherst College, for example, need to submit a graded paper for evaluation before being accepted.
If the college has not provided you with the requirements, in that situation, you should select the paper ranging from 3 to 5 pages to get the positive outcomes.
While writing the essay, your primary aim must be to choose a long paper enough so that the Admission officer gets a fair idea of your writing skills and unique voice but should be concise so that the admission officer doesn't get bored with the information provided you.
FAQs
How long should a college essay be?
The Common App personal statement used by over 800 colleges should be between 250 and 650 words. The essays for your college application typically range from 400 to 600 words.
How long should a college application essay be?
The average length of the college application essay should be around 500 words, and those words can mean the difference in acceptance and rejection of the application. No doubt you will spend your precious time researching for writing the essay. Still, it will take just a few minutes for the administrator to read it, so it's your responsibility to attract their attention towards you by crafting an attractive essay.
How long should a college essay be for apply texas?
According to the college guidelines, all applicants must submit the specified essay for ApplyTexas or UT Austin Required Essay in the Coalition application. Always remember to keep the length of the essay between 500 to 700 words which means just 2 to 3 paragraphs.
How long should a paragraph be in a college essay?
According to the general guidelines, a paragraph's length in the college essay should be 1/3 to 1/2 of a page. When a paragraph is two or more pages long, the probability is that there are multiple main points. In this case, need to make each one into a separate paragraph.
Can my college essay be more than 650 words?
No, the college essay you write must not cross 650 words, but yes, it can be shorter than 650 words. Writing a college essay of over 500 is acceptable only if you write a thoughtful and complete essay.
If you have written a short essay, you need to add relevant details and descriptions associated with the essay, which will help the reader engage in the essay and evaluate the glimpse of the situation and your personality.
How long should a college essay personal statement be?
The personal statement is considered the essay that you usually write for acquiring admissions in most colleges, scholarship applications, and applications.
Such a personal statement should be a short essay that typically ranges from 200 to 500 words or longer (900 words). A page is usually equivalent to 250 words. Papers should generally be typed, double-spaced, and in no smaller than 10 font sizes.
How long should a conclusion be for a college application essay?
In order to write the ending paragraph of the college application essay, i.e. conclusion, to give a fantastic finish to the essay. However, to write the conclusion, you might not get enough space.
Suppose you have written an essay of 250 words, then you must write the conclusion of at least two sentences to give it a finishing touch. According to the professionals, the introduction and conclusion must be 10% of the total work count of the essay.
Suppose you have written a college essay of 1500 words, then your introduction and conclusion must not exceed 150 words.
How many paragraphs should a college admission essay be?
Organize your essay or personal statement using a five-paragraph structure. It's essential to use an effective structure for your standard 1.5-page college application essay.
Are 400 words enough for a college essay?
Yes, keeping the college essay length to 400-600 words may prevent your essay from being cut off, while writing too little could reveal that you are not genuinely interested in the school.
Therefore, if no length requirement is given, it is recommended to stay within 400-600 words. By doing so, you will give readers a chance to learn more about you and demonstrate your interest.
Choose our firm for acquiring quality college essay writers
The above article might have cleared all your details concerning the length of the college essay. Hopefully, the above article is helpful for you in writing the best essay.
If you require an essay writing service for writing an engaging college essay on time. Then, Students' assignment help is here to assist you with a team of reliable college essay writers. We have a reliable team of writers familiar with the format and way of writing a college essay. So by choosing us, you can rest assured that you will get an engaging and quality essay that will minimize the chances of rejection.