How to Cheat in Exam Hall | Trick to cheat in exam,
Many students are busy finding or wondering about the tricks to cheat in exams. No doubt, cheating in the examination hall is not at all a good idea as it affects the skills and education level of the students. Still, cheating always proves to be an effective idea for most students in getting good academic results without any hassle of learning and understanding the typical concepts.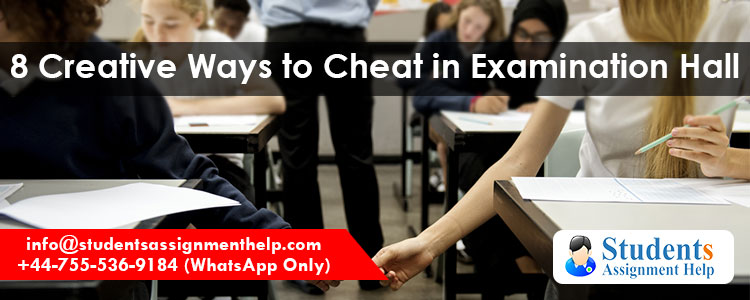 You might have seen lots of methods and techniques used by the students to cheat in the examination hall. The need for cheating arises because each student completely understands the importance of academic results. To get higher marks in the examination, several students try creative and tricky methods to cheat.
Cheating is a very challenging task; to cheat successfully requires the necessary preparation skills. However, most students overlook the learning and preparation for exams; instead, they look for several possible ways to cheat and acquire top results in every examination. The clever student usually develops several amazing techniques and ideas to cheat and get good results.
Keep reading the article to get familiar with all the possible and effective ways to cheat in the examination hall.
Possible ways to cheat in online exams
Even after knowing that cheating is not a good idea since it will affect your learning and understanding skills. Still, many students do it to acquire good academic results. We have outlined some innovative ways that the majority of the students try to cheat in the examination hall.
1. Write notes on leg/arm:
This is one of the oldest yet working cheating methods. In this method, students write the important notes on their legs and arms so that they can copy from their arms or leg if they forget any concepts in the examination. This is the most amazing idea where the chances of getting caught are very rare.
2. Notes in a watch 
Another creative idea to cheat in the examination hall is to keep the important notes in Watch. So whenever you forget any important concept or formula in the exam, you can copy such from the notes which you have to hide in the watch.
3. Notes in bottle
Another way to sit in the examination hall is to make the notes and hide them inside your bottle. But unfortunately, the chances of getting successful in this method are very rare. This is because the teachers and professors might ask you to keep your bottle or drinks outside.
4. Mobile phone
No doubt technology has made things easier for us since you can find any information online. If you take the mobile phone to the examination hall, you need to be alert as teacher might catch you using the mobile phone which might lead to eliminating you from all the exams. But if you possibly manage to cheat using the mobile phone, then nothing is a better way to cheat in the examination hall than this successfully.
5. A friend
The last and most common way used by several students, i.e., cheating from the paper of your friend. This is not only a challenging way to cheat but it might also lower down your marks if your friend has written the wrong answer. So if you have a plan to use this way to cheat in an exam, then make sure you choose the clever friend having good knowledge of the concept and formulas that will be asked in the exam.
How to Cheat On an Online Exam
As you very well know, many educational institutes, faculties, colleges, and universities are organizing exams online. Students are considering this as an opportunity to cheat and score good marks in the exam. The students have come up with a clever way to keep cheating even though many education institutes are using special methods to combat cheating on online tests.
Creative Steps to Cheat On an Online Exam:
Cheating in the online exams requires creative skills which is not possible for all the students. So to help students getting aware of cheating in online exams. We have mentioned few ways to cheat in online exams.
1. Using another electronic tool.
Apart from the laptop or mobile phone that you are using to give the remote exam, you can take the help of any other electronic gadget to search for the answers. There are several gadgets like smart phones, tablets, smart watches, or monitors. So from all these gadgets, you can find the answer to the question you have been asked in the exam.
2. Screen Sharing Sending Photos or Screenshots
With several smart moves, you will be able to share questions asked in the exams by screen sharing, sending photos of the questions you are having doubt with and screenshots with the professionals. It will rarely take two minutes of your time. No one will be able to allocate that you broke the exam policy.
3. Impersonating your exam.
Another creative and working way to cheat and score high marks is by using any other person to give your exam. This is considered one of the most common ways of cheating in online exams today. There are numerous reasons why you should not use the camera. Because you will be taking the test remotely, you can also call a friend or an expert who can solve any questions you might have.
4. Hacking the Answers
The other way to cheat in the online exam is by hacking the answer. This is possible only in the multiple-choice exam because the answer is already set up from the beginning. All the candidates cannot use this cheating method in the examination as not everyone is aware of hacking methods.
To hack an answer means to code it, which involves software highlighting the multiple-choice options and show you the correct answer from all the possible ones. Then, you need to select them on the main page as the software does when you have correctly identified them.
5. Search the answers online
Searching the answers online is considered one of the most used methods by the applicant cheating in the online exam. This is easiest methods as you will only be required to open the tab and Google the answer to the question you are confused with. This process will only work if your exam is not proctored because in that situation, if you do this, your teacher will immediately detect you.
6. Gadgets to cheat in an exam
As already mentioned, if your exam is proctored, then there are chances that your teacher will detect you, and you might get disqualified from the exam. But still, if some additional tricks allow you to cheat in the online exam even if your exam is being proctored. Some working tricks and gadgets to help you cheat in the exam are as follows:
7. Using a Virtual Machine.
Virtual machines make it possible to run another computer on your computer, and no one will discover it. You can use it to search for answers, place a phone call, take a screenshot, or consult notes without letting anyone know about it. If you open that virtual machine on your PC, no one will know that you have it open. You can search for almost any answer you want and can successfully obtain good marks.
8. Use Software to Intercept Your Video Camera.
Another creative idea to cheat in the online exam is to take the help of any external software that grants you to freeze the video camera. If this happens, the teacher won't recognize that you are cheating, and hence you can easily cheat and get good marks.
9. Use An External Tool.
The proctored exam will most likely be on your PC, so you can use another gadget to find the answer and cheat in an online exam. For example, you can use your Smartphone, smartpen, smartwatch, or bring a notebook with you to read the important notes. In a proctored exam, knowing you can use any other tool you want to have a tremendous benefit in helping you cheat in the exam.
FAQs
Is cheating on online exams okay?
Cheating in exams is not at all the right thing. But cheating is beneficial for the weaker students to score good marks in exams. However, cheating and getting caught in online exams can be risky things. If you get caught, your teacher might mark you fail in the exam, which will affect your image and your overall grade. The other risk can be that your teacher might cancel all your exams and ask you to retake them.
How does Proctor detect cheating?
Proctor quickly determines if the students are cheating in the online exam by utilizing strict proctoring software that constantly monitors all the performed activities done by students on their computers. Apart from capturing the exam environment, identifying the students in the room, and determining their positions, the software can also detect motion in the eye, mouth, and body.
Can online tests detect cheating?
Proctoring software, cameras, and IP monitoring help teachers detect cheating in online examinations if they cheat or violate academic integrity policies. Proctoring is crucial for online testing but won't prove that you cheated if you do it smartly or enlist the help of professionals to write your paper.
Get best assignment help at student assignment help.
We hope the above ways of cheating in the online exam have helped you discover some innovative ways to cheat in the examination hall and in the online exams.
Apart from this, if you are seeking reliable essay writers for assistance in essay writing for us students. Then nothing is better than students assignment help. We have a team of professional writers having years of experience in providing the best assignment works and helping the students acquire good academic results based on the assignments.