How to Take Cheat in Exam Hall | Trick to cheat in exam,
07/19/2019
|
George Orwell
|
514
Passing a college exam with a good score remains the dream of many graduate students. That is why they try on cheating hacks during the exam for fetching the best score in their college. If you are also one of these students then go through the creative hacks below which you can utilize to cheat in a test and get a pass in the exam without doing the study.
Students Assignment Help experts have suggested these hacks for free of cost to graduates in order to make them clear the exam. Most of the people consider it a wrong way to get a good score through cheat.
But if the success of entire life relies upon the academic grades there is nothing wrong to try cheating for once or twice in a lifetime. In this article, our professionals are providing students with traditional & modern ways to cheating during exam.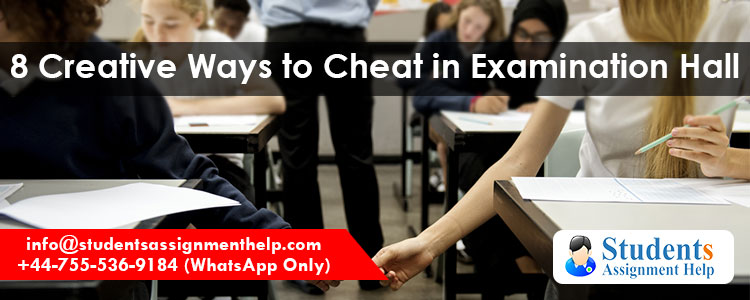 What are the reasons to do cheating in exams?
Students cheat on the exam in order to get good grades. There are number of reasons because of which students do cheating. Some students cheat as they have poor study skills which prevents them from keeping the material in mind. Other students do cheat as they have low expectations of success in exam. They have a fear of getting fail in the exam. Other reasons for cheating in exams are:
Students might be in competition with other students for their grades.
Many students cheat on a test as they feel anonymous in class.
Students might perceive a lack of consequences for cheating.
How to cheat in the exam hall without getting caught?
Modern and traditional are basically two ways that students can utilize to cheat in the exam. Below is the list of ways for cheating in exam
Wisely use stick notes to fix them on your clothes easily
Stick notes are the small price of papers that have glue on one side of them which helps to fix it better on fabric. So just use these stick notes to write your questions for the exam perspective and get them stuck in your clothes easily.
That is how you can manage a good way of cheating in the exam. While pulling these chits out of your clothes do not look here and there and you could be suspected under such state by the examiner.
Hide chits in your hair by folding them into small pieces
Girls have a good choice of hiding the small chits in their hair by using hairpins or such other material. You can easily fold down the chits into smaller pieces and then insert them in your thick hair.
Nobody is going to get an idea about such cheating tricks in the exam hall and you will be successful to cheat the exam easily. Boys having long thick hair can also try out this trick to pass their exam with a huge margin in marks.
Try to use your pen box for hiding the chits
Every single student can carry a pen box along with him to the classroom while appearing in an exam. So you can easily hide your chits in your pen box by spreading a plane sheet above the chits. That is the most common way of cheating which professors never suspect.
Many college students are adapting to this way of passing their exam easily with the help of chits. If you are a poor scorer in your exam for past years this cheating method can get you the best score this time.
The sole of your feet can also help you for cheating
The best place to hide the notes of chits is the sole of your feet which is the safest place that anyone could ever imagine about. Just write some questions on the stick notes and then put them on the sole of your feet easily.
Once the exam is over you can pull those stick notes and throw away in the rubbish bin. Do not end up writing on your, sole of the feet literally because it will be hard to rub it out after the exam. It is best among different ways for Students to Cheat in Exams.
Make short notes on the palm of your hand
The palm of your hand can also work out for cheating in the exam of college as well as the university. Just write down the important points and bullets on the inner side of your palm and hide it from your examiner. You can easily peep through the points written on your pals according to the opportunity.
That is the best way by which you can push yourself towards a good score in the exam easily. Nonverbal communication with your friends can also help you to solve some of the questions as well.
Use the space between elbow and wrist for writing cheating notes
 There is enough space between the elbow and the wrist of a person which can be used for cheating purposes easily. So write in small format in this space and you are all set for cheating like a pro.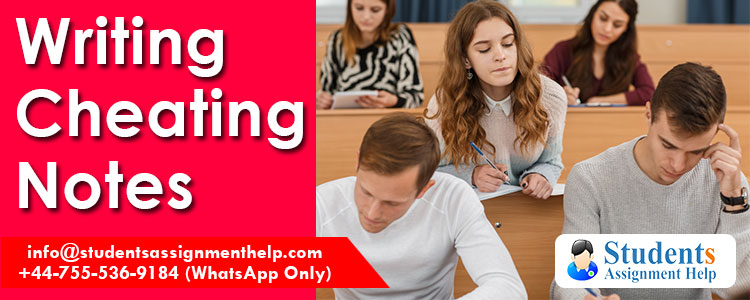 By doing so, you can get a good score in the exam without any issue. Just wear a full sleeves dress on the day of the exam to hide it from your teachers and then pull the sleeve up whenever you need to peep through the notes written in this space. You can use this method in order to cheat on a test when the teacher walks around.
Using smartwatches can help you out better in cheating
It is best among the different creative cheat exams methods, Smartwatches are also coming with the best technology these days which are helpful to take online help in exams for students. You can easily call someone on the phone to answer a specific question.
The trend of smartwatches can be seen rising very high for cheating purposes in developed countries where students are not restricted to wear such watches. So use these smartwatches and get your exam done easily and get the best marks as well.
Wear a hat to hide the chits in it
Hats are also useful when it comes to cheating in an exam as you can hide the notes on the inner side of the hat easily. The rim of the hat which is twisted a bit can also be utilized for hiding the chits and notes by graduates easily. You can also make a hole in the hat to push the chits between the two side fabrics of the hat. That is how it becomes easy to pass the exam for college students without any sort of issue. Just do not look at the professors again and again while cheating to save yourself from his or her suspicion.
How to cheat on a test with the phone?
The different features in phones provide a number of ways to ace your test with the help of your trusty iPhone or Android device. Modern ways to cheat in the exam are:
Phone a friend
You can text questions to a friend and can get answers quickly. It will help you in saving time searching for answers on google. You can utilize a swipe gesture keyboard.
Seek digital assistance
if you don't have a friend then you should not worry. There is a feature of digital assistance where you can get answers for all your test questions. You don't have to speak to your digital assistant in order to talk to your digital assistant. You can silently type google assistant. It is basically a good idea to get Quick answers. There is one default option in Android phones, you need to just tap the keyboard icon in assistance UI. But before that, you need to make some changes in settings in order to enable IOS. At the same time, you need to mute iPhone's volume settings
By using a Socratic take a photo of the Questions
Socratic options available in android and IOs enable you to take a photo of questions in the test. It provides answers to your questions in real-time. The app utilizes machine learning from millions of sources to get the job done, and it really works.
Schedule notifications along with answers
Schedule notifications with test answers ahead of time. By applying these tactics in order to cheat in an exam you will be able to access information from notifications.
Hide test answers in Disguise
If in case you want to cheat on a test when the teacher walks around, then you can utilize app-disguiser for hiding the true identity of the content. You can also use a smart hide calculator in your phone. By using a smart hide calculator you can store and access cheat-sheets and test answers throughout the examination period.
Need assignment writing help? contact us!
In case your teacher and professor calculate the score based on your assignments of the year then it is crucial to write best assignments apart from the exam.  All types of assignments help like Essay writing services, thesis writing help, and help in writing a research paper is given to the graduates by experts.
Very genuine price is charged by the experienced assignments helpers in return of this help from the college students. That is why graduates prefer to seek the help of the talented assignments writers having experience of ten years. The essays, papers, and thesis are submitted before the deadline to graduates and that is too with full editing and proofreading. You can also avail emergency essay writing services from the website of Students Assignment Help.