How to Reduce Homework fatigue
Have you ever stressed out after returning from school and unable to keep yourself calm or can't get tips to lower down the homework fatigue? This thing usually takes place when students aare provided a lot of homework from school.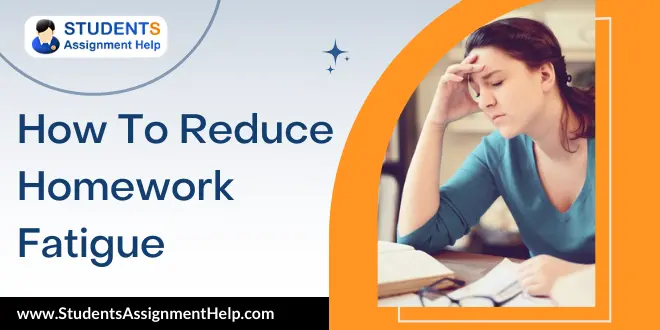 In this situation, the only thing the students are left with is to focus on doing the homework. But the thing is how one can reduce homework fatigue and completely focus on doing homework. This question arises because students fail to complete the homework due to homework fatigue most of the time.
You will be unable to focus on studying if you are fatigued, whether revising or simply catching up on your homework. Each process demands focus.
When a child is given too much homework, they feel rushed or stressed and cannot cover work on time. We are providing some tips on how to reduce homework fatigue here in this article.
There is no denying that studying stress is regularly increasing. Don't worry; all the things will be fine as these things are so common among all. However, all the things will be managed accordingly; just continue reading the article below.
Some basic tips to follow to reduce homework fatigue
To reduce homework fatigue, the only solution that comes in most students' minds is cheating in homework. This may not always be the right approach. It's crucial to develop good study habits and concentration skills for a successful future, which is exactly what we will review in How to Stay Focused while doing Homework.
1. Determine the distractions and check the cause.
One of the most important things you can do to reduce fatigue is to identify what takes your attention away from your studies? Once you successfully identify such distractions, it will help you identify the causes of fatigue as well. According to resources, digital distraction is one of the worst types of environmental distractions every student face today; their effect is on the rise among classroom students. This might be sufficient for you to achieve your goals and reduce fatigue. Still, if you are interested in easier ways to accomplish your homework and eliminate fatigue, hire homework helper online is an option you might consider.
2. Drinking fruit juice
By drinking some fruit juice or other beverage, you can lessen your tiredness. Sometimes people sip on lemon water or cold beverages or drink coffee to combat excessive sleepiness. As a result, you may be unable to sleep well. After waking up in the morning, do your homework properly to feel motivated and actively focus on work.
3. Take a quick nap
In order to resolve your tiredness, you should try to take a nap for about an hour as it is the most effective method of refreshing your mind. If you are fatigued to the point where you feel unproductive and unable to complete your study work, you should not be stressed. What will happen if you try to complete your homework while your mind and body need some rest? You may write the wrong solutions. What are you to do in this circumstance? Take a short nap!
4. You can take the help of music.
Some students are fond of music, and they can easily keep themselves energetic by listening to the music. Music works positively for many people, and some students don't feel sleepy for a single minute. When it comes to eliminating fatigue from homework, nothing is better than this if you are habituated to it.
5. Make plans
The most difficult part of managing your time is planning. Students always trouble themselves with time. It is the most precious thing, so you should use it effectively. Leave some space in your day for fun & rest. If your entire time is spent studying, writing essays, and doing homework, you will be unable to concentrate, just as you can't focus if you sleep every few minutes.
6. Keeping your mind calm
Another amazing and working tip to reduce fatigue in homework is to try to keep your mind calm. Meditation is one best practice to keep your mind calm. Meditation does not always mean start wearing robes or sit down cross-legged. Instead, you only require being seated silently, giving relaxation to the mind before studying. This will give you mental peace and inner power to focus on work.
FAQs
How can I be less tired when doing homework?
We have outlined few tips that will keep alert, focused, and less tired when doing homework:
Keep moving.
Let there be light.
Sit upright.
Avoid your bedroom.
Hydrate
Don't forget to eat (healthy)
Make studying active.
Study with friends.
How can I get more energy for my homework?
Few basic tips that you must follow to do your homework faster:
Plan Your Homework and Make a List.
Keep all the books and supplies You Need.
Find Quiet Place to Work Without Distractions.
Get rid of all the distractions like turn off your phone
Listen to Music While Working.
Eat Snacks and Drink Water frequently.
Take Short Breaks in Between Homework Tasks.
How do I calm down from homework?
Some easy ways to keep you calm from homework:
Practice good time management.
Listen to your teacher's instructions and take notes.
Focus more time on areas you find difficult.
Refresh your memory regularly.
Get a good night's sleep.
Avoid procrastination.
Have a healthy snack.
Hire homework helpers to get done your assignment Quickly
Hopefully, the above gives tips might help you reduce the fatigue in homework. But still, if you find these options not working. In that situation, nothing is better than taking online assignment help to help with school projects. Students Assignment Help's experts will complete your assignments and essays efficiently to meet every requirement specified by you and within the given deadlines.
We are a reliable firm that believes in offering you the best assignment help for USA students to complete the work on time at an affordable price. No matter you are seeking someone to help you with essay writing or completing assignment with accurate information. Our professionals are always ready to assist you. So for what you are waiting for, quickly get in touch with us and place your first order.