Should Homework be Banned
Several students wonder whether homework should be banned. Unfortunately, teachers make too many assignments for an average student to handle in a single evening (more than two hours of work). In this article, we will discuss a few reasons why homework should be banned.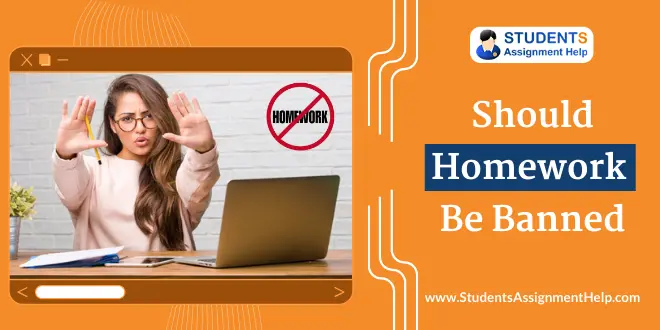 What do you think about the idea of banning homework? If you feel you are in trouble, we have an offer you won't want to miss. In all circumstances, a student should be aware that our reliable, responsive team of writers assists them with writing essays according to customer instructions.
Experts Explain Why Homework Should Be Banned
Reports suggest that providing a large volume of work to U.S. and U.K. students is unfair. No more than 30 minutes of homework should be assigned after class. However, apart from studies, extracurricular activities also play a vital role in students' success.
Almost all students mention boredom and laziness as major reasons for teachers not to assign homework. However, scientific studies reveal there are even more reasons to abandon after-class assignments. Here are 10 key factors to consider.
Top 10 Reasons Why Homework Should Be Banned
In addition to these 10 reasons why homework should be banned, colleges and schools are not forced to end homework assignments after classes.
1. Down Time at Home
It is not at all a good thing to provide too much homework to the students after they have been attending the class continuously for 8 hours. Children should spend time at home, going outside, spending time with their friends, joining clubs, helping their parents. Completing homework and assignment are not your life instead you need to give time to other activities as well. Teachers must give students some extra time.
2. Negative Impact on Tests
In certain cases, banning homework should be an ideal choice for school. This is because sometimes too much homework affects the learning skills of the students. With too much burden of homework assignments, students might not manage to pass their tests. Furthermore, complex, lengthy assignments seem to distract from devices, video games, television, friends, and duties at home.
3. Threat to Kid's Nerves
Does banning homework really promote mental health? Teachers generally overlook the negative effects of after-class assignments on a child's brain development and mental health.
4. Extra Challenges
Those students who are managing work and school work at the same time which includes after-class activities, internships, or part-time jobs often find challenges in catching up on additional tasks. As a result, they're exhausted by the end of the day.
5. Lack of Support
Teachers rarely explain all the steps needed to solve a task during class, and parents cannot help with every aspect. This is one of the best reasons why homework should be banned. It is difficult for a student's friends to assist when they don't have the experience, and they have plenty to do. Only an online service can assist students of all levels with their academic tasks.
6. The Way Students Perceive Things
One more reason to ban homework in schools is that each student perceives things differently. For example, among students, some recall information by rereading the same text several times. In contrast, others can memorize and comprehend a topic in-depth by watching a video related to it.
7. Writing Has Different Effects
Most teachers do nothing to help students who understand the subject. As a result, they risk failing the entire course due to lacking writing and research skills.
8. No Real Impact on Performance
According to the Organization for Economic Cooperation and Development (OECD), additional education time spent at home each week has a negligible effect on productivity in four hours of home-based assignments.
9. Irrelevant Content
There is no reason to assign homework to students that do not relate to their class material. It is unprofessional to expect them to complete excellent papers when the subject matter is not covered in class.
10. More Love, More Care
Many strict parents agree they are not able to see their children because of school and work. However, reducing the amount of after-class activities will benefit from more time together and more support.
Should Homework Be Banned Pros and Cons?
Minimizing Screen Time
Even though students spend up to 8 hours in front of the screens every day without homework, it is recommended that they spend no more than 3 hours. This makes them lazy and harms their eyesight, so homework improves their study and life habits.
Improving Time Management
Professionals require time management. Without it, they cannot spend 24 hours a day devoted to working.
Improved Critical Thinking
It is important to do extra work after class to improve critical thinking skills and memory.
Developed Sense of Independence
When children have more freedom, they can explore personal weaknesses and threats, work independently, and explore their motivations.
Sparking Enthusiasm
What about extra motivation? Parents can be encouraged to communicate more with their children by assigning homework tasks.
Enhanced Research Skills
In order to complete their assignments, students must gain an in-depth understanding of the subject matter and learn how to select sources and collect evidence.
Learning to Multitask
In the course of working on numerous assignments in just one night, a student develops multitasking skills. A single assignment can require research, writing, analysis, and some computer skills.
Getting Ready
Assignments need not be given on the day before the test. However, after-class activities can help students prepare and enhance their knowledge when planned ahead of time – teachers should leave some free time before the test to devote time to them.
Hire Affordable homework help services from Students Assignment Help
It is widely accepted that such tasks are useful for college students, and for that reason, students should cope with their tasks. However, students should consult a students assignment help company for academic assistance in case of any difficulties. Apart from this, if you need help in online exams, our certified tutors can assist you with the best resources.