How to Work More Efficiently – 7 Proven Tips to Be Efficient Worker
 It is always good to work in any area of life with high efficiency to give our best. College students should work efficiently on their study and assignments, a professional engineer should work properly in his profession and so on. But in order to gain this efficiency, one must undergo a series of changes in his personality. For example, if you are given with college assignment then it is crucial to write them on a regular basis and follow the same step in other areas.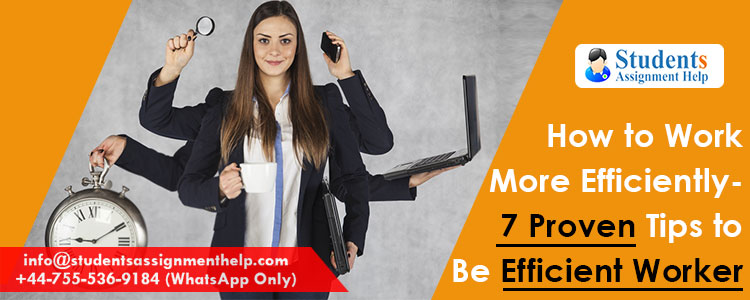 Here are the top 7 steps that are suggested by the Students Assignment Help experts to work more efficiently
Just follow these steps to finish your more efficiently.  All the steps are highly relevant and can give you the best success in the area in which you are working.
 Prepare a list of things that you want to do in a day
The first step that you need to take in order to work efficiently  is to select the goals for the entire day at the beginning of the day only. It will keep you oriented and you will not waste even a single minute from your time. This is the most effective way to work in a minimum time limit for maximum output. Most of the successful people follow this plan for their working days.
Shift out the most important goals from this list and devote time for them
Once you have prepared to do list trying to sift out the important goals from this list which cannot be ignored at any cost. Now set deadlines to carry out these tasks so that you are keeping yourself focused in the entire time period. It could be done by knowing and analysing the number of hours that you have vacant in your schedule.It is the strategy by adopting which you can work efficiently.
When you will be following this approach for your study or professional field no one can put you back from the success. For example, if you are supposed to write an MBA dissertation for college with utmost priority then define a rigid time for it.
Always set your goals according to your efficiencies and not beyond them
Do not set your goals beyond your capabilities as it is going to shake your confidence to a great level when you fail to achieve such goals. You must have a clear idea about your efficiency and set your tasks according to it only.
That is how you can keep yourself away from the anxiety and stress as well which are very harmful to the natural working atmosphere. Most of the people dump a lot of work on them and then undergo severe depression which is not a good thing for them.
Try to cut out your distractions to enhance your efficiency in work
When you will be surrounded by a lot of distractions around you it will become difficult to finish your work on a given deadline. Remaining away from all types of distractions that hinder the accomplishment of your goals on time is the best way to increase efficiency.
From mobile phones to music and other things should be out of your reach until or unless you are not done with your job. That is how you can behave like that of professionals to achieve your goal on time with increased efficiency.
Make sure that you are able to finish all your important task of the day
If you have set your goals for the day and feel lazy or drowsy in between try to reach at the end of your tasks list. Leaving your goals in between is going to make you less efficient for the next days as well. Every way you should promise yourself that laziness is not going to eat your efficiency to work on any arena of life.
There are many examples which are failing to achieve high efficiency just because of their laziness. So you should not repeat such mistakes in your life of getting lazy particularly when it comes to your study.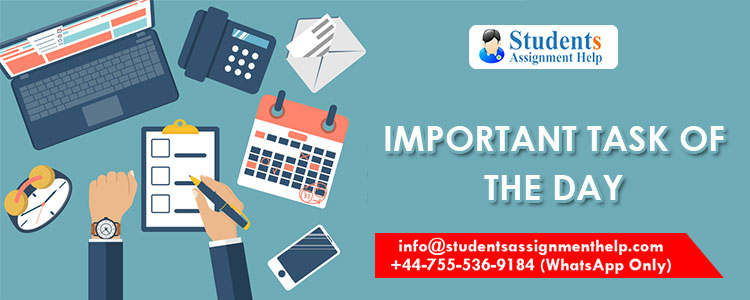 Take suggestion and ideas from experts on a given problem
Never hesitate to seek the experiences and help from those who have ventured on the same goal earlier. It is good to learn from someone else experience rather than repeating the same mistake and then learning from it. You can easily ask a professional person about the technicalities of a topic to reduce your time in research.
This is the way by which students and professional people can put their best to become more efficient in any kind of work. For example, if you are asked to write a chemistry assignment for school then you can consult the topic with top chemistry experts. That is how you will also be able to manage unique ideas on the topic of the assignment as well.
Focus on one goal at one point of time do not sail on two boats at the same time
Many students have this bad habit to explore or venture on multiple things at one point in time. As a result of which they become unable to gain any of them in their life. If you want to save yourself from such sort of experience try to focus your interest on one thing at one point of time.
While writing chemistry assignments one must not embark upon writing the economics assignment. That is the reason such students who try to sail on the two boats always meet failures in their life.
 So these are the tips  to work  efficiently apart from many other fields. In case you worked hard with all your efficiency by following the above points and tips and still fail to write your college assignments then take expert's help.
Take Help of Students Assignment Help's Experts for Efficient Work!
We provide excellent assignment help USA service to students. We are backed by a dedicated team of professionals who have years of experience in writing assignments and papers for college-level courses. Just ask need help with my assignment and our experts will be ready to help you.
Students Assignment Help also provide Do my homework online and write essay for me services to the USA students.  Online assignments writers provide all these services at a very low cost to the students.
If you are facing any challenge regarding your college assignments then professionals are going to sort it out within a finger snap.