Persuasive Essay Topics
Modified: 5th Aug 2020
|
2184
|
When one is writing an essay for middle school persuasive essay topics becomes a good choice. There is a lot of scope of showing knowledge and sharing great ideas with thought clarity that can lead to the generation of a good writing sample.
Many students who are looking for college application help can also find these essay topics a great source to display their skills and make a good impression. The number of topics is many but before one starts to write an essay on any of them it is important to know what they mean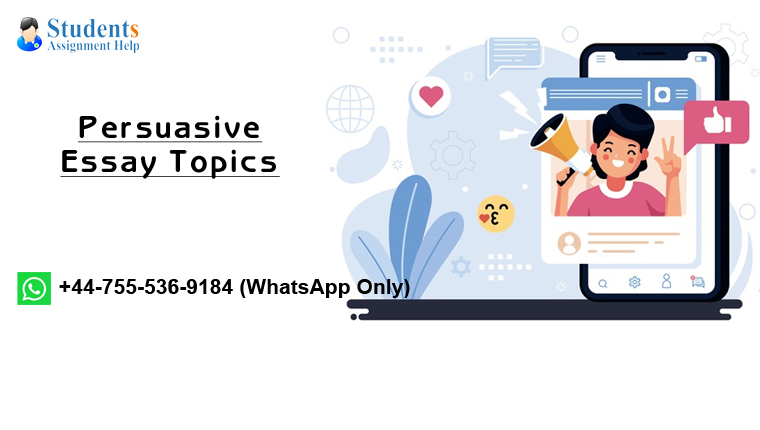 What is a persuasive essay?
Persuasive essay topics are a way of writing or expression that aims at convincing the reader that their argument is better or appropriate than any other. They are very common essay choices when institutes are selecting applicants. They are also popular amongst high school homework and assignments.
The arguments should be made in a way that they use logic and examples to support the claims made. They are also commonly known as argument essays as they mostly deal with making supportive arguments to the point in question. They should be supported by facts and reasoning to convince the readers that whatever is said is absolute sense full and should be accepted with no doubt.
List of Persuasive Essay Topics, Below Here:
Persuasive essay topics that one can use while writing for high school and even use in debates and speeches
 Exam structure do not support the learning abilities and outcomes
 Soda should not be sold in places where kids prefer to eat.
 French fries are a bad idea in school canteens
 Boys and girls should study in different classrooms
 Public places should be open to breastfeeding
 The students under 21 should be allowed to drink with parents consent.
 Parents should check the kids belonging to illegal possessions.
 The invention of the internet was made to change a life.
View: Persuasive Essay Sample on "Professionalism In The Workplace and Its Importance" 
Latest Persuasive Essay Topics for College Writing and Speech
 The use of cell phone leads to concentration issues
 Is there gender equality in politics
 The use of text has become obsolete and should be replaced by technology
 Students should be careful while using social media
 The solution to the immigration problem is the border fence
 Recycling laws should be established
 Use of social media should be banned while in school
 Identity theft is a big problem for adults living alone
 Girls should have equal participation in co-ed sports teams.
 The calories should be mentioned in fast food restaurants
 The tax system is a burden to the middle class.
 The highways should be billboard free
 The psychiatrists should testify for the defendants in the court when there is a plea of not guilty.
 Death penalty should be given to child molesters
 Prospective parents should be asked to participate in parenting classes
 Teen moms should be encouraged to get married even while in school
 There should be a use of music and arts in prison to calm the prisoners
Have a look: Persuasive Essay Sample On "Why You Should Adopt A Dog"
Persuasive Essay Ideas for Higher Graduates
One can choose the following ones for making a greater impact on the selection team or an impression in a competition while pursuing a higher degree
 There is nothing such as good and evil
 There should be a ban on prescribed code of ethics
 Creation of wealth is an outcome of taking credit for someone else's work
 Truth is universal
 Happiness is a result of helping others and selfish people are always unhappy
 Role of genetics in human behavior
 Intelligence should be genetically engineered
Effective & Funny Topics on Persuasive Essay
 Alternative energy is useful and cheap compared to fossil fuels.
 Sex orientation is determined in early age
 Human behavior is the reason behind climatic changes
 Euthanasia should be made legal
 Kids should be paid for doing household chores
 Parents should talk to kids about drugs at an early age.
 Cats are better pates
 Religious freedom is a myth
 Why are there tanning booths on the beach?
 How to look busy and do nothing?
 The ownership of weapons should be tightly controlled.
How to write a good persuasive essay?
Like any other essay, the topic holds the most important part. Choosing the right topic means half the battle is won. The list of the topic available for a persuasive essay is many. One can choose from any one of these while writing a great essay. The essay writers suggest that following these steps will lead to a great outcome.
See also: Free Persuasive Essay example On "McDonald's Organizational Structure"
In this step, the student should think about all the aspects of the essay. There should be a clear idea of the issue or topic and choice should be made about the side one is planning to support. Know who will be the reader of the same. Research as much as possible as the statement must be support by solid facts. Pick and choose the most convincing view
The innovative ideas come when you are drafting the essay. The introduction should have a strong hook. Start with a question that will make the readers think hard about it. Move forward towards the thesis which will clear the writer's position about supporting the statement.
Now write the body which should be divided into paragraphs which all deals with various different points. All of these points should be supported by facts and statistics. Real-life examples create a higher impact on the mind of the readers.
Conclude the essay with important points made and call for action to change the way they feel and think and adopt the style mentioned here. Making recommendations is a great way to make that kind of impact.
Ask a few questions at this point. Does the essay support the statement you wanted to make? Does the hook look impressive and binding? Is the opposite point refuted strongly? Is the conclusion paragraph persuasive enough?
This is important to ensure that the grammar and the structure of the sentence are correct. Edit the statement and style of expressions if needed. At this phase, eternal help can be taken.
The best way to make an impression is by knowing what you are aiming for. Do not try to overcomplicate anything. Keep it simple and crisp. The readers should get a clear understanding of what you are talking about and keep the statement and favor at the center of every discussion.
Get Persuasive Essay Writing Services from Our Highly Experienced Writers
The Online Essay Helpers at StudentsAssignmentHelp.com are native writers from USA, UK, Australia, Singapore, and Canada. You can get the best Essay Writing Help from our website that can help you score the highest grades.
We provide a wide range of essay topics help to our students such as Psychology, environment, social media, health, law, nursing, and many others. You can also get essay samples online on our website.