Personal Freedom
05/14/2019
|
George Orwell
|
1675
|
Personal freedom essay samples to the students are given below. It will help students to write good essays for their assignments on personal freedom. Personal freedom topics cover a vast arena. This essay is going to be helpful in every type of essay based on freedom. Personal freedom Essay Writing Help to the students in the form of the above sample is given by the best experts of essay writing.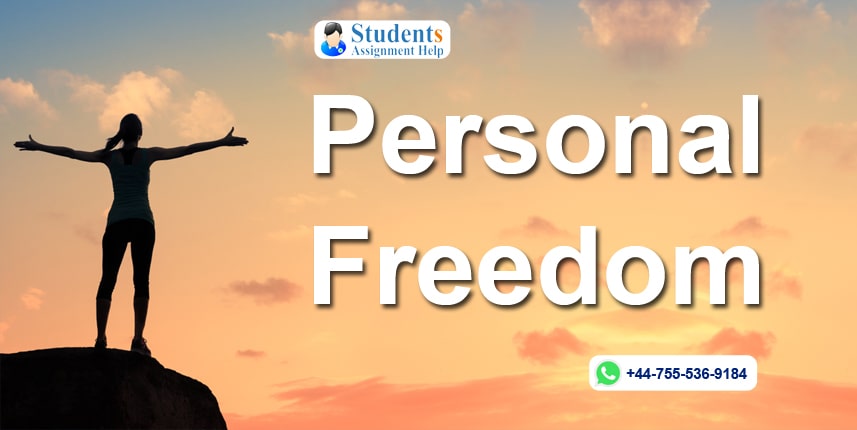 Introduction
Every human being or animal desires to be free from the manacles of any restrictions that are subjected to his or her life. The need for freedom is a very important part of life to take decisions without any pressure. When a person is put into the manacles of restrictions at a different level, he starts feeling life as a burden. So it is very important for everyone to manage personal freedom. This must be kept in mind that in order to maintain our personal freedom, we should not snatch the freedom of someone else. Everyone is equally important and has equal rights to freedom of life as well.
Thesis Statement
Personal freedom is very important to live a happy and cheerful life without any burden.
Main Body
Personal freedom can be divided into multiple aspects on the basis of its relation to the world. It shows that how a person needs freedom on different stages. Here are some areas of personal freedom given below. It will help you to understand how important it is to give freedom to the person at every level of life.
Different Aspects of Personal Freedom
Personal Freedom in the Family – The need for personal freedom begins with the family of a human being. It is very important that he is free from the pressure and restrictions of his family members. This freedom could be associated with taking the free decision of personal life. For instance, he must not be interfered to take a decision regarding his career, love affairs, and thinking ideologies. When a person is put under the frame of laws he becomes a sort of mentally paralyzing and loses the capacity to take an individual decision. That is why family should give this freedom to the person to take his decision related to life.
Personal Freedom from Peer Group – There are many instances in the life of a human being when he has to suffer from the pressure of his peer group in personal life. There comes many important times when an individual is forced to take a decision on his life which he does not wants to take otherwise. This is done by the person under the pressure of his peers. In other words, we can say that peer snatches the freedom of person, which should not be done.
Personal Freedom at the Level of Society – There come moments when people have to take a decision on their personal life as society wants. This is because societies indirectly rule over the life of an individual. This could be seen in multiple cases. A person should have the freedom to live his life in a rightful manner without any suppression by the external forces.
National Level Personal Freedom – This suppression of the freedom of a person is not limited to the society and peers of the person only but it also happens at a national level. There are certain customs and traditions of every nation, some of them indirectly rule the life of people. These must be excluded from the life of a person so that he feels free to live life without any pressure on the freedom of his life.
Importance of Personal Freedom
The need for personal freedom is very important for any living being who wants to live a pressure-free life. Here are some points mentioned below which will help you to understand the importance of personal freedom in the life of a person.
When a person gets personal freedom in his life, he becomes full of energy and confidence to make his decision. Decision taken in this way proves out to be very important and right for the person.
The thinking capacity of a person is increased when he ponders on the crucial like decision like a career.
Life becomes pressure and burden-free, as a consequence of which they start enjoying life.
The person feels important and not a slave to society and his family to follow their hegemony on his life in an indirect way.
Conclusion
The entire discussion of the essay shows that personal freedom is very important for the well-being of a person. People live life cheerfully when given the freedom of taking his personal life decision. This freedom is given to the person by his family, peer group, society, and nation at large.
To understand the depth of seriousness associated with the issue of personal freedom, it is very important to have a dialogue of self-introspection by every person. This way we can help to incorporate personal freedom at large scale. Certain important steps like a debate on the unwanted pressure of family and society could also be organized to discuss such crucial topics.
Students Assignment Help give essay writing help to the students in writing essays on personal freedom. This help is given to the students from Online Assignments Writers. Experienced and skilled writers give help in writing personal freedom essays to the students.
The sample essay given above is an example of the professionalism that our experts give to the students. In case your requirements are a little different from this sample essay, Students Assignment Help is ready to customize your essay as well. You will be provided with the best help in every way by the professionals of StudentsAssignmentHelp.com