Biomedical Model of Health Essay Sample-Strengths and Weaknesses
The biomedical model of health is the most popular and accepted way to look at wellness. It looks at how our body works through a medical lens and has many different aspects such as genetics, nutrition, physical activity, mental health, and more. We use this model because it can be used to measure human function in a standardized way that everyone understands. The only problem is that we cannot always control all of these factors so there are limitations.
This sample will describe the biomedical model as well as its benefits and drawbacks as an approach for understanding health problems.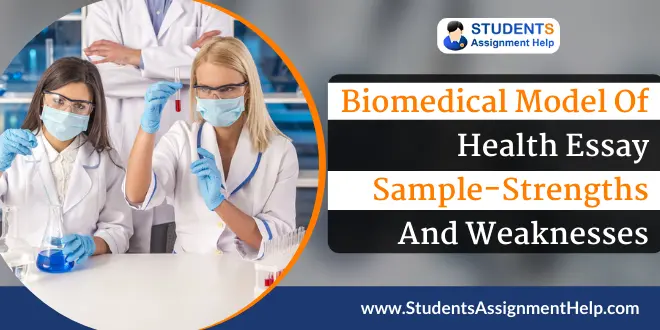 Biomedical Model of Health-Strengths and Weaknesses  Essay example
Thesis Statement

The biomedical model of health is having both boons and vanes as it tends to reach the main reason behind the occurrence of diseases through patients but does not consider the other crucial elements in research.

Introduction

The biomedical model of health is considered the most critical model that endeavors to know the cause behind given diseases. It is done by putting efforts into authentic research on the diseases by observing the patient. Here we will come to know about the different aspects of a biomedical model and how it differs from other models of health.

Also, a light will be thrown on the strengths and weaknesses of the biomedical model of health here. Eventually, you will be able to figure out whether it is suitable to follow the biomedical model in health or not.

Get Non-Plagiarized Custom Essay on Biomedical Model of Health in USA

Main Body

What is the Biomedical Model of health?

The biomedical model of health deals with the analysis of diseases with which a patient is suffering without incorporating any personal element of a patient's life. Whatever the patient's situation and body reveal through the diseases is considered of utmost significance in this model of health. Most medical researchers are following this model even though it has so many drawbacks as well.

How Biomedical model of health is different from that of other health models

There are different models of health for example psychosomatic model, religious model, transpersonal model of health, etc. Every sort of model deals in a unique way to reach the cause of diseases inpatient.

For example, the religious model of health deals with the effect of religion on the health of a person on the other hand biomedical model deals with the present state of the patient only.

Talking about the psychosomatic model of health deals with the impact of a person's psychology on its health. So we can see that different approaches are adopted to analyze the cause behind diseases inpatient.

Major Strengths of the Biomedical Model

There are certain positive points about the biomedical model of health that are universally acknowledged by medical researchers.

Have a look at these strengths of the biomedical model listed below.

The Biomedical model of health bases its research and studies of the diseases on the fundamental observations that are collected from the state of the patient.
The main reason which led to the cause of the given diseases is analyzed through qualitative and quantitative study in this model. As a result of which diseases can be controlled by eradicating their roots.
The most important positive aspect of the biomedical model of health is that the diseases can be uprooted easily when the cure is done by targeting the main cause.
It becomes easier to carry out a study on the patient by taking him under observation and only authentic data can be collected in this type of research based on the biomedical model of health.
It helps in the fast recovery of the patient from diseases as diseases target research is carried out by the experts only.

Weaknesses of the Biomedical Model of Health

No other aspect like what is the inherit line of the patient, his psychological development, and religious history is considered in this model.  As a result of which most of the time half roots of the cause of the disease are obtained by the researcher.
It is almost impossible to bring professional researchers and doctors for treatment and research. Some of them are even not aware of the basics of diseases that cause injustice to the patient.
The biomedical model of health is considered as regular and continuous torture to the patient. This is because he is kept under observation and several tests are conducted at regular intervals.
The lack of psychological counseling and emotional gulf as the patient is parted from the family sometimes results in the more critical situation of the patient.

Buy Customized Essay on Biomedical Model of Health At Cheapest Price

Conclusion

So from the above essay, we can figure out the conclusion that the biomedical model of health has both positive and negative aspects. At one point in time, it focuses on professional research to know the reason behind the occurrence of diseases and their treatment.

At the same time, it does not consider the background of the patient-important to reach the roots of disease occurrence. So the model swings between its strengths and weaknesses both in medical science.

Mostly it has more positive points than negative ones and that is why this model is adopted in medical science by the researchers.

Hire USA Experts for Biomedical Model of Health Essay