Importance of Family Essay Example
Family relationships are the most important of all human relationships. They represent a bond that is unbreakable, and they provide us with unconditional love that we can't get anywhere else in life. Relationships between parents and children, siblings of any age, grandparents to grandchildren, cousins – these relationships are what make our lives worth living.
If you're struggling to make sense of your family dynamics or need help reconnecting with loved ones who have drifted away from you over time, these samples will be an interesting read for you!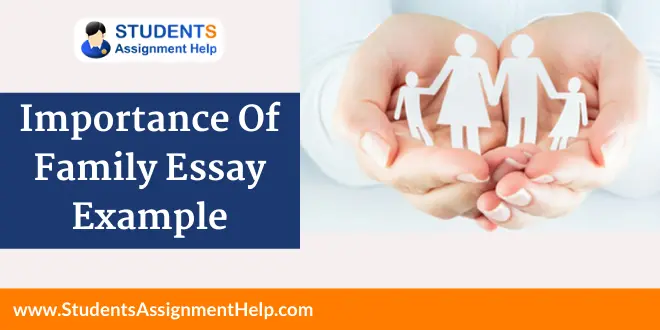 Introduction-What Is A Family & Why Family Is Important?
Family is very important to make us what we are. Generally, a family consists of people who are correlated with blood. A family is a group of people who accept us for what and who we are. Sometimes people not related to blood become our family members such as a spouse, in-laws, friends, etc. Family is the place where a person starts his life and from where he gets never-ending love.
What values and behavior a person will achieve in his life totally depends on his family values. Survival is very difficult for any person without having a family. Ask the value of a family of a person who does not have a family. Family is the first every person get introduced in the world. The person learns first to interact with their family before interacting with the outer world.
Main Body
Classification Of The Family
Basically, family is classified into two, and that is:
Closed family
Extended family
In the group of closed families, the members that are included are our parents, spouse, siblings, etc.
In the group of extended family, the members that are included are cousins, aunts, uncles, in-laws, etc.
Many of the times, closed friends and even closed neighborhood becomes part of the family.
Importance Of A Family In A Person's Life
A person feels protective in the presence of family, as the family members are always present for your support and security.
Our family supports us in every situation or problem of life. They help you to overcome a breakup, to deal with a bad performance in an examination, or to tackle a job interview. A family always helps a person to develop self-confidence.
A family never leaves a person in difficult times. They always understand and love them in any good or difficult times.
Family always provides physical and mental happiness to a person.
Every person needs belonging, feeling of love, understanding and affection in their life and the family always provide you all these. When no one is there in our support, the family always stays with us at that time too.
Family is also significant to protect us from all sorts of outer influences. Sometimes a person has an outside pressure to do something that is morally wrong. This is the time where the role of a family is significant that prevents the person from doing anything that is unethical. It is family values that give a person the understanding to differentiate between right and wrong.
Family is the one where one can depend on this big planet. The family gives us the feeling that we are not alone in this big world and whatever we do or achieve in our life, we ultimately go back to our family and loved ones.
Family plays a significant role in the development of a child. It helps in the overall mental and physical development of a child in all aspects. Family creates a healthy atmosphere that is needed for the development of a child. The family members help to take care of our child in case we went out of town or are sick etc.
The family also helps to take important decisions in life which can be challenging if we do it all alone. It is the family values that help the person to take correct decisions in life.
A family is the one that helps the person to build beliefs and develop a strong personality, that helps you to enhance our future. Our family is the ultimate shape provider of our life.
Today as the life of human beings becomes so stressful, family supports them to tackle stress and live a relaxed and peaceful life.
The Factors That Make Family Relationships Strong
Learning: Family is the first place from where we start learning, as it is our first interaction with the social world. Our values, skills, and behavior are what we get from our family and that makes a strong bond between the family members.
Loyalty: The family members are always devoted ad loyal to each other and that helps to build a strong connection between them. Loyalty builds a never-ending bond between the family members. They always stand for each other in difficult situations.
Love: Love is the first thing that comes into mind when we hear the word family. Love is at the heart of each family member for each other.
Conclusion
In the end, we can say that the family is a very crucial part of everyone's life. Never underestimate the value of a family. Ask a person about what he feels who does not have a family. Every family member should have a strong connection amongst themselves to keep them together. A family that does not hold a strong bond can be easily defeated by outsiders.
Are you looking for: Classification Essay Writing Help Online