Nike Advertisement Analysis Essay Sample
Nike is an international company that has been around for almost 50 years. They are known worldwide as a well-known sports apparel and equipment supplier, but they also produce shoes, accessories, and other athletic-related products. Nike's newest advertisement campaign features Colin Kaepernick who was the first NFL player to kneel during the national anthem in protest of police brutality against African Americans.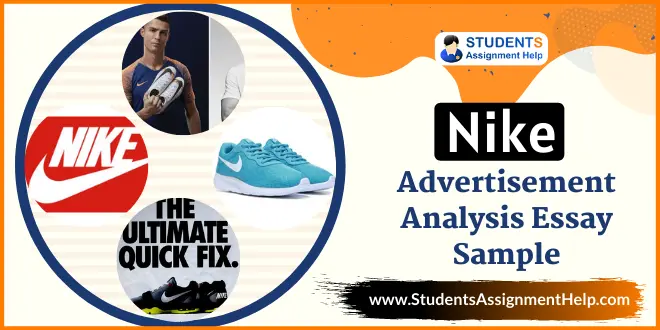 Essay Example On Nike Advertisement Analysis
Thesis Statement – Nike Advertisement Analysis
The Nike Advertisement Analysis of the advertisement for Nike shoes shows how it uses its target audiences' desires to construct a meaning which is beneficial to its company.
Introduction – Nike Advertisement Analysis
The first step in analyzing a Nike Advertisement is to look at the ad itself. The images used are used to create an association between Nike shoes and high-quality sportsmanship which then leads into images that aim to build strong brand-name recognition.
Main body – Nike Advertisement Analysis
The images used in Nike ads always surround the viewer with a certain meaning or associations that truly mean nothing to the product itself.
They use associations such as 'the world's best athletes', 'Glory and Victory', and the American Flag in order to market their shoes in a positive light which creates an association between owning their shoes and powerful athletics associations.
An image of greatness makes its viewers feel like they would be great too if they bought another pair of Nike shoes.
The pictures used in advertisements for Nike emphasize winners and ignore losers who do not wear Nike.
When paired together, these images serve to inform the public that by purchasing Nike, they will also gain power and glory.
These images are then paired with powerful music that makes the viewer feel more active while watching, which then brings them to an image of a product, in this case, Nike shoes.
By pairing these images together so closely, the company is able to indirectly link its product with feelings of empowerment which can lead to increased sales.
The Ad itself aims only at perceptions of the targeted audience, not their actual desires or needs, thus making it utterly empty.
Conclusion – Nike Advertisement Analysis
After looking at all the above evidence included in this analysis on Nike Advertisement Analysis one can conclude that it is selling emotions rather than products by subtly associating its products with feelings of power and dominance.