Halloween Versus Christmas Essay Sample
Halloween and Christmas are two of the most popular holidays in America. People decorate their homes, wear costumes, and hand out candy on Halloween while Christmas is a time for family to come together. This essay will explore how Halloween compares to Christmas from various perspectives including religion, food, celebration, and traditions/beliefs.
Sample essay on Halloween Vs Christmas is given here which is written by the assignment experts of Students Assignment Help for helping those who do not have the idea about the way of writing an essay. You can write all types of essays when the sample is there with you to guide you at every step and moment of difficulty. The school essay on Halloween Vs Christmas can also be written by reading this sample.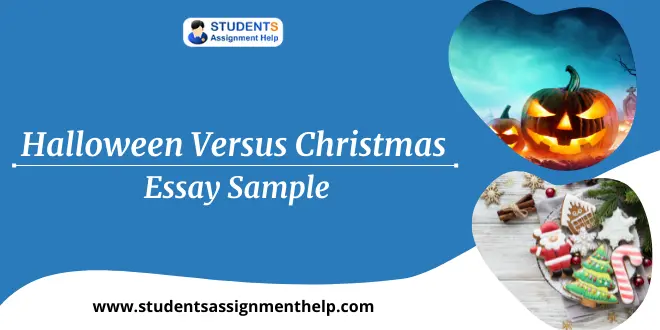 Essay Example of Halloween Versus Christmas
Introduction of Halloween Versus Christmas Essay

Christmas and Halloween both the festivals are celebrated across the globe with deep enthusiasm and people spend a lot of money to buy gifts, candies, and dresses on both the occasion. But when it comes to comparing them with each other it is a very tough deed for anyone because they both are having different meanings and believes behind their celebration which can be subjected to a comparison to each other. While Christmas is an eve of celebrating the birth of Lord Jesus on this day which is known for many important and holy deeds in Christianity, we can consider Halloween as a way of celebrating an occasion by haunting people through different costumes and collecting candies from them as well.

Main Body of Halloween Versus Christmas Essay

Comparison between Halloween Versus Christmas

Halloween is celebrated across the world among people by putting on scary themes and dresses. The real purpose behind this celebration is traced to the new year on November 1 in some calendars where all the spirits who are to be taken away on the previous night of 31st October create a scary atmosphere and that is why the celebration of this day is continuously going on. Halloween is not just festive for the kids but at the same time, adults and aged people also impart their part of the job in this occasion by celebrating it in a little different way by dressing up them in different horrifying themes. Christmas which is an eve of enjoying and marry making for the birth comes with a little serious note where exchange of the gifts to each other and such other activities takes place.

If we think of both the occasions, it is very hard to distinguish the one which is best out of them as both Halloween and Christmas are having their own role in the lives of people which brim them with joy. If you find Christmas as most popular even more popular than Halloween as the base to make it the best out of two festivals then it could be wrong to do that because Halloween gives the freedom to people especially kids to dress up in the costume of their choice and it is a sort of freedom to their soul at this very day which cannot be compared to any other thing on this earth. We all have the idea about the popular philosophy that children are closest to nature and God and they are a replica of God and if God is happy with Halloween in the form of kids then it is not good to say the Halloween is having a little bit low sheen than Christmas.

Serious care must be given before reaching a conclusion about the basic comparison of the things between both Halloween and Christmas as well. Some people have a notion that Christmas is celebrated with grand pleasure among the people as compared to Halloween owing to its roots with Jesus Christ. On the other hand, Halloween is a celebration of mere a myth that is picked up from someone else's idea. Even many people do not want to celebrate this occasion which traces its roots from somewhere else. But we cannot give our inferences based on such statements as this is an inseparable part of the lives of kids and adults in the United States and other Christian countries as well.

Buy Customized Essay on Halloween Versus Christmas At Cheapest Price

Now the entire meaning of Halloween for the children and their parents is limited to putting on new dresses and gathering candies only. So we cannot ignore such enjoyment which is done by the people on this eve just on the statements given by some random souls and minds. It is always good to live in the present situations rather than keep on worrying about the previous one. That is why we cannot draw a hard line in the comparison of both Christmas and Halloween.

No doubt Christmas is the most celebrated festival among all age groups but we cannot ignore Halloween and its importance as well. So the conclusion of the essay can be thrown in such a way that both Halloween and Christmas have their own place in the heart of people and we cannot subject their emotions to a level where they get hurt by specifying a certain event as popular or good on comparing to other.

The only thing that could be done to resist such comparison is to understand the emotions of those people who put their heart and soul into work throughout the year to manage the money for these two festivals so that their children can enjoy. It is a refreshment period which comes at the end of the year every time to give a thing of beauty to stay connected to the earth as mentioned by John Keats in his popular poem.

The Popularity of Halloween versus Christmas in America

One of the most obvious differences between Halloween and Christmas is the number of people who celebrate each holiday. The first point that one might notice is that more Americans celebrate Christmas than any other holiday throughout the year with a whopping 70% of all children, teens, and adults celebrating on December 25th each year (Harris Interactive). In contrast, only 54% report going trick-or-treating on Halloween night as children (Harris Interactive), further suggesting that more Americans celebrate Christmas than Halloween. There are many reasons why there are so many more people celebrating Christmas in America compared to holidays like Halloween or even Thanksgiving.

Get Non-Plagiarized Custom Essay on Halloween Versus Christmas in USA

Why do people like to celebrate Halloween more than Christmas?

While there are many reasons why Halloween is celebrated in America more than Christmas or Thanksgiving, one of the most popular explanations has to do with how these holidays make people feel. It's no secret that more Americans celebrate Halloween than almost any other holiday since they will either dress up themselves or hand out candy to trick-or-treaters (Halloween Facts). By contrast, it may seem strange that fewer Americans celebrate Christmas because it has more facts associated with it. For example, the earliest documented celebration of Santa Claus took place on December 6th in the Dutch settlement of New Amsterdam which is now known as New York City (Unmuseum). Since then Santa Claus has become an integral part of Christmas celebrations in America during which people play different games such as "pin the tail on the donkey" and receive gifts from Santa Claus (Unmuseum). In general, Christmas is all about playing games and giving gifts which makes people feel happy because they get to spend time with their family or loved ones exchanging presents.

Conclusion

This essay has shown that the difference between Halloween and Christmas is a matter of perspective. The differences are based on what you think life's meaning or purpose might be, as well as your personal values. It's up to you which holiday will have more significance for you in the future.

Ultimately, the holiday traditions that are most important to you will be what makes your season magical. Whether it's Halloween or Christmas, if you put in the effort and enjoy yourself with friends and family, then whatever day of the year is best for you will feel like a time full of cheer. It's up to each individual person to decide which holidays they find meaningful–and there are plenty out there!

Hire USA Experts for Halloween Versus Christmas Essay