Process Analysis Essay Sample
A process analysis essay is an expository essay that explains the process or actions that someone needs to take to complete a task.
Read the entire sample of process analysis essay to complete your graduation and master assignments. It is very important to understand the basics and fundamentals of writing a process analysis essay before starting it. If you are also in need of a good professionally written process analysis essay example of resume writing then the free essay example given here by the Students Assignment Help experts can be helpful for you.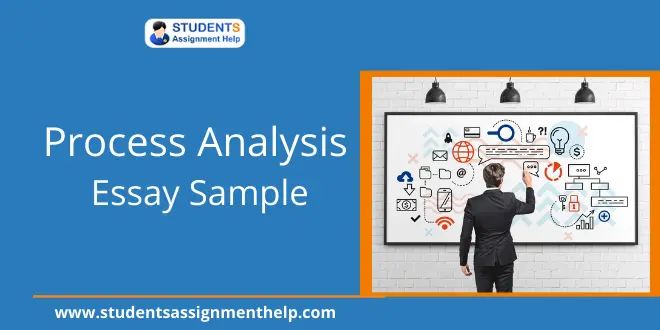 Essay Example on Process Analysis of Resume Writing
Thesis statement of resume writing process analysis essay

A resume can be written only when we follow a sequence of explaining things without making them in a haphazard manner. The process of resume writing can be simple if followed aptly.

Introduction of resume writing process analysis essay

Writing resumes are the most essential part of our life especially when it comes to seeking a stable job with a high package. But most people make it very complex by writing their resume in a topsy-turvy manner which should be avoided. Here we will discuss the process by which we can write a good resume for domestic as well as international job opportunities. You will be able to write a good resume for yourself or to your friends by going through the resume writing idea given here.

Main body of of resume writing process analysis essay

Ponder about your capabilities regarding the given job: The first thing that you have to do is to self-introspection to know your capabilities whether you fit into this job or not. If yes, then find out skills and capabilities which make you capable for the given job.
Figure out the success that you have attained in past to fit the job: You also have to take an account regarding the achievements of past years that can be helpful in this job. Be very wise while mentioning these skills and accomplishments and save yourself from writing something irrelevant to the job profile.
Torm your head to know your hobby: You also need to find out your hobby which is very easy to do actually. Just put a while in thinking about what are things that you get yourself busy with your vacant time. That must be your hobby and the need to write reading books is your hobby if it is not so.
Start the resume with a catchy and effective line: A resume opening should be very interesting and appealing and that is why you are supposed to start it with a catchy hook or line.
Give basic detail about yourself: Your basic information must be correct and do not write anything fake knowingly to get the job as it is definite in such case you will be thrown away by the company in a couple of days.
Mention your ideas, work ethics: You have to lure the employer by giving detail of your work ethics and ideals of life in the resume. It put a positive impression on the employer and he or she will immediately hire you because of good work ethics.
Give a brief idea about future goals: Do not forget to mention the future goals that you are having if get selected for the job. If they match with the requirements of the employer the chances of your selection get higher.

Get Non-Plagiarized Custom Essay on Process Analysis in USA

Conclusion

This is how a good resume can be written by following step-by-step actions. If you are not writing your resume in a well-fabricated manner it is very hard to impress the employer as they have no idea about your skills. The above process of writing a resume for job purposes shows the importance of following a structure of a resume to make it more expressive and apt.