Syrian Refugee Crisis Problem Essay Sample
The Syrian refugee crisis is one of the most pressing global issues to date. It has been reported that over 3 million Syrians have left their country, seeking refuge in neighboring countries North America and Europe. The crisis has also spilled into other areas, such as health care systems and labor markets. This essay will discuss the economic impacts of this refugee crisis on Syria's neighboring countries and Europe.
The best free descriptive essay sample on Syrian refugees is going to help you in understanding the way of writing such essays along with expertise on the topic. You will also be able to figure out the essay structure and outline for writing short and long essays.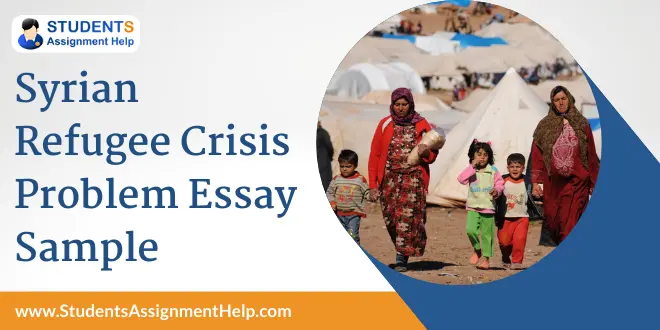 Essay Example on Syrian Refugee Crisis Problem
Thesis Statement of Syrian Refugee Crisis Problem Essay

After the civil war in Syria civilians of the country take exile and become the Diaspora in neighboring nations where they are facing various problems on a regular basis.
Introduction of Syrian Refugee Crisis Problem Essay

Civil war is the most miserable condition in any country where people of the same country fight against each other on a given issue. The same thing happened back in 2011 when Syrian citizens were subjected to a civil war against the government. The main cause of the war was cruel behavior and insane activities of the government towards the citizens.

Finally, war brakes up and resulted in a massive massacre and bloodshed in the country. Those who survive the war fled from Syria to neighboring nations and become a permanent Diaspora class there. Different types of problems were experienced at that time by the refugee and still facing a lot. Here we will have some glimpses about the issues and problems that Syrian refugees confronted with as a Diaspora class on the foreign land.

Main Body of Syrian Refugee Crisis Problem Essay

Change in cultural and culinary habits

It is very difficult to survive on land that is having very different cultural values and culinary habits. The Syrian refugee went under the massive change to adjust their eating habits, culture, and many such things. While living in Diaspora state they were always seen with heinous eyes by the native people of countries.

Solitude

To live a normal life it is very important to have people around you who understand your emotions and talk to you. But after the displacement of the Syrian refugee in different parts of the country, it was very difficult for them to find their families. Many of them even went under depression and emotional trauma because of long-time solitude. There were no reasons to smile under such a state for a Syrian refugee.

Buy Customized Essay on Syrian Refugee Crisis Problem At Cheapest Price

Poverty

Although these refugees were given shelter by the various nations still their plight was very miserable. Poverty has caught the entire Syrian refugee that they cannot get rid of easily. Those who were from good and wealthy families were also in such a state that managing two squares of the meal was the primary purpose of living.

Emotional upheavals

Apart from the above problems emotional upheavals were also in the air as most of them were deported from their families. Many have lost their children, parents, and spouse. So a complete absurdity and anarchy can be seen in the life of Syrian refugees when they were staying as a Diaspora population in various countries.
Conclusion

The conclusion of the essay reflects that it is not easy to survive on a Diaspora land where you feel like a piece of branch detached from the tree. Although shelter, food, and basic amenities are given to them nobody can help them to get the same environment in which they were living in their previous life.

Hire USA Experts for Syrian Refugee Crisis Problem Essay