Civil War
05/14/2019
|
George Orwell
|
1341
|
The war which is fought inside within a country between differing fractions, religions or politics is referred to as Civil War. The American Civil War was a war fought in the United States of America between the North (Union) and the South (Confederacy) beginning from 1861 and ending in 1865. In the events of American history, this war was one of the most devastating one costing more than 600,000 lives. This bitter war started as an outcome of many years of differences and disputes between the Union and the Confederacy.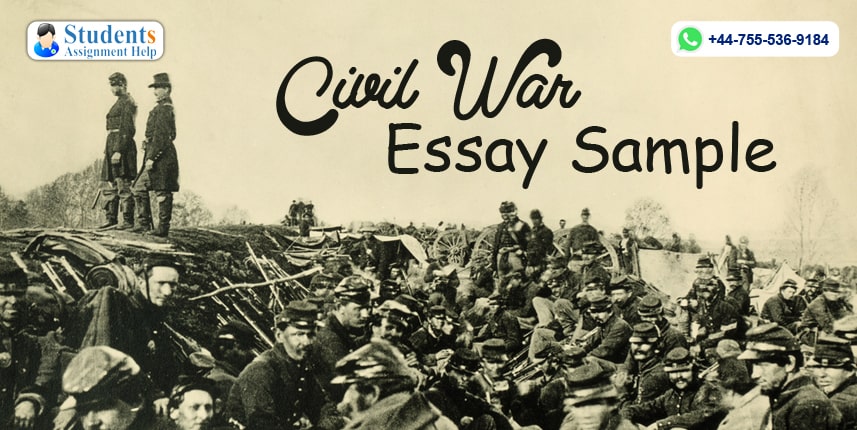 This war, as a result, exploded after many years of fight building up between the two regions, i.e., the North and the South. There lay profound social, Economic and political differences, but it is essential to understand that slavery was the ground and origin of these differences.
List Of Causes Of Civil War [Immediate & Economic]
 Social cause- There are many factors which contributed to the beginning of the Civil War. The South or also known as the slave states was a slave-based community that followed a class-based system. This system consisted of the aristocracy, middle class and then slavery. Many of them are the slaves and were used to living their life this way, which was hard to change. The North, or also known as the Free states, had more settlers setting in its areas, where labor was needed, but not the labor of slaves. Therefore, it had a more industrialized community where most people worked in factories and did not support a class system. The Northerner opposed to slavery as an organization in the South, as the Confederate States were the only area in the world that still approved the ownership of slaves. This aggravated the Southerners and threatened their way of life.
 Economic causes- By the time, economic differences also developed between the two regions. The Southern states were depended on agriculture rather than industrialization as these were the agrarian states. While the North depends on factories and other industrialized businesses. For this reasons, many of the new immigrants settled in the North, while very few settled in the South. This enabled the North to grow industrially while making the South more aggressive towards them. As manufacturing was limited therefore the Southern economy opposed high taxes, whereas the Northern states welcomed high taxes to protect its products from the cheap foreign competition.
 Political cause- Politically, the States were not any more united in their point of views. Expanding westward would help each side not only socially and economically but also politically. Both the North and the South had different opinions on how the government should work. The South wanted limited government control and higher state freedom while the North greeted the Central power of a party.
You may be like: Sample Essay on Civil War for Free
Get The Best Support In Writing Your Academic Essays
Whether it is a Civil War Essay or a World War, I essay, taking online assignment help is the best option. As the students do not possess excellent knowledge and adequate writing skills, StudentsAssignmentHelp.com is offering professional essay writing help services with the support of its writers. Whenever you get stuck with your homework writing just come to our experts and acquire the best support ever.
We not only help you with writing essays but also other academic assignments such as thesis, case study, term paper, report writing, and coursework. We have subject matter experts in each and every academic discipline offering you the best assistance. So, wait no more for any magic to happen. Simply come to our experts and get the best assistance.
Hire The Best Writing Services
 Come to our site and fill the Online Homework Help order form given there specifying all your requirements like a deadline, topic, referencing style and other.
 A suitable writer will be assigned your task, and you can complete the payment procedure.
 The assigned writer will start working on your task and finish it within the asked deadline.
 Our QA department team expert will check your assignment for any error and proofed and edit it to make it flawless.
 The accomplished homework task will be sent to your mailbox, and you can come to us again for free revisions in case you are not happy with the work we provide to you.
Why Choose Us-
 Low prices- Now with us you do not need to worry to spend a tremendous amount of money as our writers will offer you the best assistance at a reasonable cost. We guarantee to deliver all our services at a low price, and we do not have any hidden cost.
 Deadline delivery- We promise to deliver all your work on the assigned deadline. Our Write My Assignment specialists are never late in providing the work on time. We work very hard to complete all your assignments in time.
 Unlimited revisions- It may happen that you may not get satisfied with the work we provide to you. At that time you do not need to hesitate, just come to us asking for free unlimited revision services. We will alter your assignment according to your requirements.
 High-quality work- Our company has created its reputation by providing the highest quality work for the students. We will only offer you a standard quality assignment that will surpass all your expectations and win hearts of your university professor. The professionally written assignment will help you in scoring the highest grades.
 Proper referencing- We have Assignment Help Experts who are proficient in citing your assignment in any of the referencing styles whether MLA, APA, Harvard, Chicago, Vancouver, Turabian or any other. So, worry no more just come to us with any academic problem and get it solved in a short time.